Diana's Desserts - www.dianasdesserts.com
See more recipes in
Breads - Biscuits - Rolls - Scones
Brioche Loaf
in Guest Recipe Book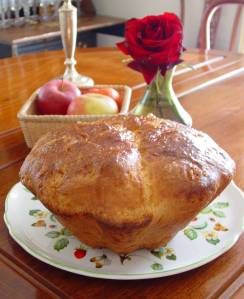 Average Rating:
(total ratings: 2)
[Read reviews]
[Post a review]
Servings: Makes 1 brioche loaf, 8-10 slices
Comments:
Brioche
Definition: [BREE-ohsh; bree-ahsh] This French creation is a light yeast bread rich with butter and eggs. The classic shape, called brioche à tête, has a fluted base and a jaunty topknot. It also comes in the form of small buns or a large round loaf. Special fluted brioche molds, available in metal, glass or ceramic, are necessary for the brioche à tête. Brioche dough is also used to enclose foods such as sausage or cheese.

Source of Definition: The New Food Lover's Companion, Second Edition, by Sharon Tyler Herbst

This recipe is for a Brioche loaf (without a topknot), opposed to a brioche à tête (one that has a jaunty topknot).......Diana

Ingredients:

2 1/2 cups plus 2 tablespoons unbleached all-purpose flour
1 1/2 tsp. instant dry yeast
1/4 cup water, cool
4 large eggs
2 tbsp. granulated sugar
3/4 tsp. salt
1 cup (2 sticks) cold unsalted butter

For Eggwash Glaze:
1 egg yolk
1 tbsp. water

Instructions:
1). Place 1 1/2 cups of the flour, the yeast, the sugar, the salt, the cool water, and the 4 eggs into the pan of your bread machine or the bowl of an electric stand-mixer.

2). Beat at medium speed with electric mixer using a dough hook (or knead in the bread machine) until smooth.

3). Cover the bowl with a clean kitchen towel, and let it sit for 45 minutes. Bubbles will develop, but will not change very much due to the thinness of the batter.

4). Add the remaining 1 cup of flour, and beat (using the dough hook) with electric mixer (or knead in the bread machine) for 8 to 10 minutes, or until the dough cleans the sides of the bowl (or bread pan) and is shiny and elastic.

5). Sprinkle a work surface with the 2 tablespoons of flour. Place the 1 cup (2 sticks) of "cold" butter onto the flour. Pound the "cold" butter with the side of a rolling pin until it's become a rectangle about 1/4-inch thick. Fold it over several times as you pound; making it pliable without becoming too warm or soft. Add the butter (in small amounts) to the dough and beat until the butter is fully incorporated.

6). Cover the dough and allow it to rise for 1 hour. It will be very soft at this point, and should have risen by about one-third.

7). Turn the dough out onto a lightly floured surface and fold it over several times. Place the dough into a greased bowl. Loosely cover the bowl with a clean kitchen towel or plastic wrap and refrigerate it for a minimum of 4 hours, and up to 16 hours or overnight. The chilled dough will firm up considerably.

8). Remove the dough from the refrigerator and form it into a round loaf. Work quickly, as the dough becomes very sticky as it warms. Place the rounded loaf into a 9-inch brioche pan* (see note below). Cover the dough lossely with a clean kitchen towel or plastic wrap and allow it to rise for another 2 1/2 to 3 hours, or until it's doubled in size and has crowned well over the top of the pan.

For the Eggwash Glaze and Baking Brioche:
Beat the egg yolk with the 1 tablespoon of water, and brush the complete top surface of loaf with the egg wash, (being careful not to let the egg wash drip onto the edges of the pan, as the dough will stick to it and the baked brioche will be difficult to invert from pan after baking).

Using a very sharp knife, cut four slashes into the top of the loaf.

Bake the brioche in a preheated 375°F/190°C* (see note below) oven until it's a medium-dark golden brown, about 30-40 minutes. You may use an instant-read thermometer to check doneness of loaf. When thermometer is inserted into center of loaf, it should read 190°-200°F/87°-93°C when done.

For a lighter crust, tent the loaf with aluminum foil after the first 20 minutes of baking.

Remove the brioche from the oven and cool in pan for 10 minutes. Invert brioche loaf out of pan, and cool completely on a rack.

*Note: If baking your brioche in a glass or dark colored pan or a non-stick pan, bake brioche at 350°F/180°C instead of 375°F/190°C. Using glass, dark-colored or non-stick pans will bake your bread quicker, and will cause your loaf to brown faster.

Makes 1 brioche loaf, 8-10 slices.

Photograph taken by Diana Baker Woodall
Source: DianasDesserts.com
Date: April 27, 2003-Revised June 1, 2003
Reviews
Reviewer:
Catherine Hoang
Rating:
Review:
Thank you very much.
Reviewer:
Jane
Rating:
Review:
I finally got the courage to try making this bread. It turned out perfect and my family enjoyed it so much. We even made french toast with it.