Diana's Desserts - www.dianasdesserts.com
See more recipes in
Christmas
Spicy Rudolph's
in Guest Recipe Book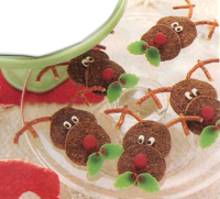 [Be the first to post a review!]
Servings: Makes 24 Spicy Rudolph Cookies
Comments:
They are so much fun to make and it is nice to see the finished product in a beautiful Christmas dish. I make them every year.

MAKES: 24 Spicy Rudolph Cookies
PREP TIME: 30 minutes
FREEZE TIME (dough): At least 2 hours
BAKE TIME: 11 minutes per batch
DECORATING SKILL: Easy to average skill level, depending on your decorating skills.

Planning Tip: Make up to 1 week ahead. Store airtight at room temperature with waxed paper between layers.


Ingredients:

1 box (about 14 oz.) gingerbread and cookie mix
1 bag (10 oz.) thin pretzels (each about 2 1/2 in. across)
24 unsugared red gumdrops (Dots), from two 7-oz boxes
24 spearmint gumdrop leaves
1/2 cup semisweet chocolate chips, melted
48 small white oval mints (Tic Tacs)

Instructions:
1. Prepare gingerbread mix using cookie or gingersnap recipe on box. Shape dough into a 12-inch long log. Wrap in plastic wrap or waxed paper and freeze at least 2 hours or until firm enough to slice.

2. Carefully break enough pretzels to form 2 antlers for each reindeer.

3. Heat oven to 375 degrees F. Lightly coat baking sheet(s) with nonstick spray. Slice dough into 1/4-inch thick rounds.

4. For each reindeer, overlap 2 rounds (head and muzzle) on prepared baking sheet, leaving room between each reindeer for antlers. Insert antlers under dough at top of head; press dough gently around antlers.

5. Bake 8 to 11 minutes until cookies look dry. Cool on baking sheet 1 to 2 minutes before removing with a wide spatula to a wire rack to cool completely.

6. For Nose, Smile and Holly Berries:
Slice a 1/8-inch thick round from bottom of red gumdrop. Set top aside for nose. Cut round in half crosswise and scoop off a little from the straight edge of one half to form Rudolph's smile; set aside. Roll scraps into berries.

Holly Leaves:
Cut spearmint leaves in half lengthwise. Turn sticky surface up, press on berries and set aside.

7. Using a toothpick as a spreader and melted chocolate as "glue," glue nose, smile and holly leaves on cookies. Glue on mints for eyes; dot with chocolate for pupils. Let stand until chocolate sets.

Makes: 24 Spicy Rudolph Cookies.

Source: Magazine
Submitted By: Shauna Morey
Date: Sept. 14, 2002