Diana's Desserts - www.dianasdesserts.com
See more recipes in
Christmas
Sweet Potato Pie with Pecan Streusel Topping
in Guest Recipe Book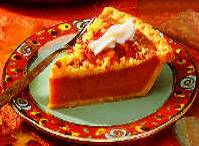 [Be the first to post a review!]
Servings: 8
Comments:
Many southern families make this nicely spiced sweet potato pie instead of pumpkin for their Christmas or Thanksgiving dessert.

Ingredients:

1 pound sweet potatoes
1/4 cup unsalted margarine or butter
3/4 cup all-purpose flour
1/2 cup yellow cornmeal
1 tablespoon sugar
1/4 teaspoon salt
1/3 cup shortening
1/2 cup packed brown sugar
1 tablespoon finely shredded orange peel
1 teaspoon ground cinnamon
1/2 teaspoon ground nutmeg
1/2 teaspoon ground ginger
3 slightly beaten eggs
1 cup half-and-half or light cream
1/4 cup all-purpose flour
1/4 cup packed brown sugar
1/8 teaspoon ground cinnamon
1/8 teaspoon ground nutmeg
2 tablespoons margarine or butter
1/4 cup chopped toasted pecans or almonds


Instructions:
1. Peel sweet potatoes. Cut off woody portions and ends. Cut into quarters. Cook, covered, in enough boiling salted water to cover for 25 to 35 minutes or until tender; drain and mash. (You should have 1-1/2 cups.) Cut up margarine; add to hot potatoes, stirring until melted.

2. Meanwhile, prepare cornmeal pastry by stirring together 3/4 cup of the flour, cornmeal, sugar, and salt. Cut in 1/3 cup shortening using pastry blender, until pieces are the size of small peas. Sprinkle 3 to 5 tablespoons cold water, 1 tablespoon at a time, over mixture, tossing with a fork after each addition until all is moistened. Form into a ball.

3. Roll out on a lightly floured surface into a 12-inch circle; ease into a 9-inch pie plate; trim to 1/2 inch beyond edge of plate. Fold under the overhanging pastry; crimp edge high. Do not prick.

4. For filling, add brown sugar, orange peel, cinnamon, nutmet, and ginger to potatoes. Stir in eggs and half-and-half or light cream. Place pastry shell on oven rack; pour in filling. Cover edges with foil. Bake in a 375 degrees F oven for 30 minutes.

5. For Pecan Streusel Topping mix 1/4 cup flour, 1/4 cup of the brown sugar, 1/8 teaspoon cinnamon, and 1/8 teaspoon nutmeg. Cut in 2 tablespoons margarine or butter until mixture resembles coarse crumbs. Stir in pecans or almonds.

6. Remove foil. Sprinkle with Pecan Streusel Topping. Bake 20 to 25 minutes more or until a knife inserted near center comes out clean. Cool. Makes 8 servings.
Make-ahead tip: Refrigerate prepared Cornmeal Pastry and Pecan Streusel Topping, covered, up to 3 days.


Source: DianasDesserts.com
Date: September 5, 2002