Diana's Desserts - www.dianasdesserts.com
See more recipes in
Christmas
Kugelhopf for Christmas
in Guest Recipe Book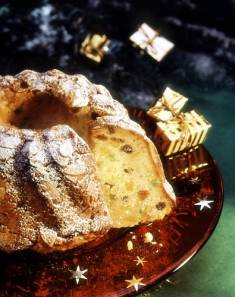 [Be the first to post a review!]
Servings: 8-10 slices
Comments:
Though generally thought of as Austrian, bakers from Alsace, Germany and Poland also claim credit for this light yeast cake. It's filled with raisins, candied fruits and nuts, and generally embellished with a simple dusting of confectioners' sugar. It's traditionally baked in a special fluted kugelhopf ring mold. Also called gugelhopf.

Definition from: The Food Lover's companion, 2nd edition, by Sharon Tyler Herbst.

A lovely cake to serve at Christmas time, or anytime during the holiday season.

Note:
If you like you can also add dried fruit, in addition to the raisins, to the cake batter. Also adding red and green glacéed cherries are nice and give the cake a very festive look.
Ingredients:

1 1/2 teaspoons active dry yeast (less than 1 envelope)
2 tablespoons warm water (105 to 115°F/40 to 46°C)
1 cup whole milk
7 tablespoons (3 1/2 oz./99g) unsalted butter, cut into tablespoon pieces and softened
6 tablespoons granulated sugar
3 3/4 cups all-purpose flour
1 teaspoon salt
2 large eggs
1 1/2 cups raisins (preferrably golden raisins)
1 cup dried fruit, finely chopped, or green and red glacé cherries (optional)
1 teaspoon finely grated fresh orange or lemon zest
About 20 whole blanched almonds (1/2 oz./15g), or sliced almonds may be used
1 to 2 tablespoons confectioners' sugar

Special Equipment:
A standing electric mixer with paddle attachment; a 10 to 11-cup kugelhopf mold (9 inches in diameter) or an 11 to 12-cup bundt pan.
Instructions:
Stir together yeast and water in a small bowl and let stand until foamy, 5 to 10 minutes. (If mixture doesn't foam, discard and start over with new yeast.)

Heat milk with 6 tablespoons butter and granulated sugar over low heat, stirring, until mixture is warm (105 to 115°F/40 to 46°C), butter is melted, and sugar is dissolved.

Sift together flour and salt into bowl of standing mixer. Make a well in flour and add yeast mixture. Add warm milk in a slow stream, mixing at low speed with paddle attachment. Increase speed to medium and beat in eggs 1 at a time, then beat in raisins, dried fruit or glacé cherries (optional) and orange or lemon zest. Continue to beat until dough is smooth and elastic, about 5 minutes. (Dough will be very sticky.)

Butter a 9-inch (10 to 11 cup capacity) kugelhopf mold with remaining tablespoon butter. Put 1 whole almond in each depression in bottom of mold (the almonds are only decorative; you can skip them altogether if your mold has no depressions), or if desired, sprinkle sliced almonds into bottom of mold, then scrape spoonfuls of dough evenly into mold (dough will be very elastic). Cover top of mold with oiled plastic wrap and a kitchen towel and let dough rise in a warm place until it fills pan, about 2 hours.

Preheat oven to 400°F/200°C.

Remove towel from kugelhopf and gently peel off plastic wrap. Bake kugelhopf in middle of oven 15 minutes, then loosely cover mold with foil and continue to bake until golden and a tester inserted in center comes out clean, 20 to 25 minutes more. Cool in pan 2 minutes, then invert cake onto a rack to cool completely, about 1 hour. Dust with confectioners' sugar.

Notes:
Kugelhopf is best eaten the same day it's made; however, leftovers are delicious toasted.

Use a light colored metal baking pan or mold. Because they retain more heat, dark metal pans, including nonstick, will likely make your baked goods darker and decrease the cooking times.

Makes 8 to 10 servings.
Source: DianasDesserts.com
Date: August 8, 2002