Diana's Desserts - www.dianasdesserts.com
See more recipes in
Christmas
Chocolate and Pear Christmas Trifle
in Guest Recipe Book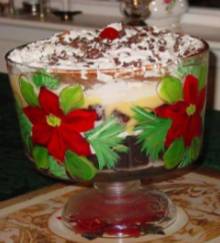 Average Rating:
(total ratings: 3)
[Read reviews]
[Post a review]
Servings: 8-10
Comments:
A wonderful chocolate cake trifle for Christmas. The fresh sauteed pears give this trifle a wonderful flavor........Diana
Ingredients:

For Bottom Layer of Trifle:
1 ready-made Chocolate Pound Cake OR: 1 package Brownie Mix (baked and cooled)

For The Custard Layer:
3/4 cup granulated sugar
1/3 cup flour
1/4 teaspoon ground nutmeg
1/4 teaspoon salt
2 3/4 cups milk
4 egg yolks, beaten
1 teaspoon vanilla extract

For The Pear Layer:
1 1/4 cups sweet white wine, such as Sauterne or Riesling* see note below
1/3 cup granulated sugar
1 1/2 teaspoons grated lemon peel or lemon zest
1/2 tsp. ground nutmeg
1/4 teaspoon ground cinnamon
6 large ripe pears, peeled, cored, and cut into 1/2 inch wedges

For Garnish:
1 cup heavy cream, whipped
Grated chocolate, milk chocolate or semi-sweet chocolate
Maraschino or Candied Cherry
Instructions:
Preparing Cake or Brownies:
Prepare and cool brownies, if using (cut into 1-inch cubes) or cut ready-made chocolate pound cake (if using) into 1-inch cubes. You should have about 8 cups. Set aside.

To Prepare The Custard:
In a medium size heavy saucepan, stir the sugar, flour, ground nutmeg and salt. Gradually stir in milk, egg yolks and vanilla extract. Cook over medium heat, stirring constantly until thickened and bubbly. Cook and stir for 2 minutes more. Remove from heat. Pour into bowl; cover surface with plastic wrap and refrigerate for 4-6 hours.

To Prepare Pears:
Stir the wine, 1/3 cup sugar, lemon peel, ground nutmeg, and ground cinnamon in large skillet. Cook over low heat, stirring constantly to dissolve sugar. Bring to a boil. Reduce heat to medium-low. Simmer uncovered for 10 minutes or until reduced by half.
Add sliced pear wedges to wine mixture; stir gently to coat. Bring to a boil. Reduce heat to medium-low and cover. Simmer for 3-5 minutes, stirring occasionally until pears are tender. Remove pears from skillet with slotted spoon and discard any cooking liguid. Cover and refrigerate pears for 4-24 hours.

Putting the Trifle Together:
Place half of the chocolate pound cake cubes (or brownie cubes, if using) in the bottom of glass trifle bowl.
Pour half of the cooled custard sauce over cake (or brownie cubes), and half of the spiced pears over the custard.
Repeat layering the trifle with remaining chocolate pound cake cubes (or brownie cubes), custard sauce and pears. Cover and refrigerate for 4-6 hours.

Right before you are ready to serve the trifle, remove from refrigerator, and garnish top of trifle with whipped cream, grated chocolate, and maraschino or candied cherry.

Trifle serves 8-10.

*Note: You may substitute Alcohol-Free White Wine or use White Grape Juice for the Satuerne or Riesling wine in this recipe.

Tip #1: Vanilla pudding mix can be substituted for the custard in this recipe. Use larger size box of pudding mix (4.3oz. size), and follow directions on pudding box to prepare pudding. Let pudding cool before pouring over chocolate cake cubes or chocolate brownie cubes.

Tip #2: It would be a good idea to start the preparation of this trifle a day before you are going to serve it, as the custard and the pears have to be refrigerated for at least 4-6 hours.

If you are going to use vanilla pudding mix instead of making the homemade custard, than making it the same day will be fine.
Source: DianasDesserts.com
Date: December 25, 2001
Reviews
Reviewer:
Kathy
Rating:
Review:
This is a keeper!
Reviewer:
Alison
Rating:
Review:
I have made this 2 Christmas' in a row now, and every time I had rave reviews. I just used a regular chocolate cake and it turned out fabulous. I thought chocolate and pear sounded like an odd combo, but it is soooo good. The second time I made it, my pears weren't ripe so I substituted drained, canned pears and just didn't cook it quite as long - just as good as fresh!
Reviewer:
diane Mdlalose
Rating:
Review:
mmmm you'll never stop eating this one