Diana's Desserts - www.dianasdesserts.com
See more recipes in
Christmas
Mincemeat Pie
in Guest Recipe Book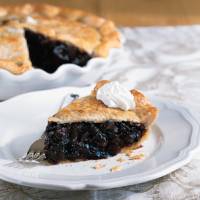 [Be the first to post a review!]
Servings: 8-10
Comments:
Mincemeat is a traditional English food predating New England settlers. At that time, mincemeat commonly included wild game birds, beef, veal or lamb, which was mixed with fruits and spices, cooked down and packed for the winter. Modern-day mincemeat simply combines fruits and spices, and is often used in pies, tarts, cookies and cakes.

Mincemeat Pie is often served at traditional Thanksgivng and Christmas Dinners in America.
Ingredients:

2 1/2 cups all-purpose flour
1/2 tsp. salt
2 tsp. granulated sugar
12 tbsp. (1 1/2 sticks/6 oz/170g) chilled unsalted butter, cut into 1-inch pieces
1/2 cup vegetable shortening
4 to 6 tbsp. ice water
1 jar (28 oz.) mincemeat tart or pie filling
1 egg, whisked with 2 tsp. cold water
1 cup heavy cream, whipped with 2 tbsp. sugar

Instructions:
In the bowl of a food processor, combine the flour, salt and 1 tsp. of the sugar and pulse once to mix. Add the butter and shortening and process in short pulses until pea-size crumbs form, 20 to 25 seconds. While pulsing, gradually add the water until larger, moist crumbs form, 10 seconds more.

Turn the dough out onto a lightly floured surface and press the dough together with your hands. Divide it into two pieces, one slightly larger than the other, and shape each into a 5-inch disk. Cover with plastic wrap and refrigerate for at least 1 hour.

Position a rack in the lower third of an oven and preheat to 425°F (220°C).

On a floured surface, roll out the larger piece of dough into a 12-inch round, about 1/8 inch thick and transfer to a 9-inch pie dish. Roll out the other piece of dough for the top crust. Pour the mincemeat tart filling into the shell. Lay the top crust over the filling and trim the edges, leaving about a 1/2-inch overhang. Press the crusts together around the rim to seal, fold the overhang under itself and flute the pastry decoratively with your thumb. Brush the top crust lightly with the egg mixture, sprinkle with the remaining 1 tsp. sugar and make 5 or 6 slits in the top with the tip of a knife. Bake for 20 minutes, then reduce the heat to 350°F (180°C) and bake until the juices are bubbling and the crust is browned, 35 to 45 minutes more. Transfer the pie to a wire rack and cool for at least 1 hour before serving. Top each slice with a dollop of whipped cream.

Makes 8-10 servings.
Source: Williams-Sonoma Kitchens
Date: July 21, 2002