Diana's Desserts - www.dianasdesserts.com
See more recipes in
Breads - Biscuits - Rolls - Scones
Whole Wheat Pita Bread
in Guest Recipe Book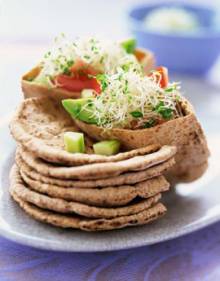 [Be the first to post a review!]
Servings: Makes 12 pita breads
Comments:
What is Pita Bread?
Pita (also called and more commonly known as pitta or pita bread and pronounced "pitta" in Greek) is a round or oval wheat flat bread made with yeast.

Similar to other double-layered flat or pocket breads, pita is traditional in many Middle Eastern and Mediterranean cuisines. It is prevalent from North Africa through the Levant and the Arabian Peninsula to India and Afghanistan, coinciding with the spread of the Hellenistic world. The original pita is cooked flat without any rising. This type, known as the Greek pita, is the most well known and universal type; others include Indian pitas.

Pita bread is a great bread for beginning bakers or for making with kids. The entire process of making them takes less than 2 hours, so it's a great idea when time is at a minimum.

This recipe for Whole Wheat Pita Bread uses both whole wheat flour and white bread flour, so it's a very healthy choice for those of us who want to incorporate whole wheat into our diets.
Ingredients:

1 1/2 cups lukewarm water
1 tbsp. active dry yeast
1 tsp. sugar
1 cup whole wheat flour
3 cups white bread flour
1 tsp. salt
2 tbsp. olive oil

Instructions:
Put 1/2 cup of the lukewarm water in a small bowl and stir in the yeast and sugar. Cover and let stand in a warm place until foamy, about 10 minutes.

In the bowl of a stand mixer, stir together the whole wheat and bread flours and salt. Pour in the yeast mixture, olive oil and the remaining 1 cup lukewarm water. Using the paddle attachment, mix until a dough forms. Fit the mixer with the dough hook and knead until the dough is elastic and springs back when gently pressed, about 10 minutes.

Transfer the dough to a lightly oiled bowl, cover with a dish towel, and let stand in a warm place until doubled in size, about 1 hour.

Preheat a pizza or baking stone in a 450°F/230°C oven for 30 minutes. Line 2 baking sheets with parchment paper.

Punch down the dough and turn it out onto a clean, lightly floured surface. Form into a log and cut into 12 equal pieces. Working with 1 piece at a time and keeping the remaining pieces covered, roll out each piece of dough into an oval or circle, about 1/8 inch thick. Place on the prepared baking sheets, cover loosely with plastic wrap, and let rest in a warm place for 20 minutes.

Working in batches, carefully place 3 or 4 pitas flat on the preheated pizza stone and bake until fully puffed and slightly browned, about 3 minutes. Keep the pitas warm in a slightly damp towel while cooking the remaining pitas.

Storing Pita Bread
These pitas can be stored for up to 3 days in an airtight container or for 2 months in the freezer.

Makes 12 pitas.
Date: March 5, 2008