Diana's Desserts - www.dianasdesserts.com
See more recipes in
Breads - Biscuits - Rolls - Scones
New York Style Pretzels
in Guest Recipe Book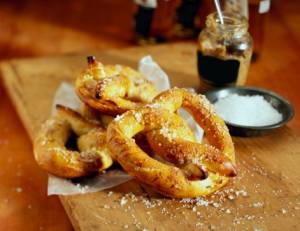 [Be the first to post a review!]
Servings: Makes 8 large pretzels
Comments:
Though reminiscent of the warm soft pretzels you may have had at baseball games or on the street, these are even better because they're fresh. Serve with yellow mustard.
Ingredients:

1 tablespoon granulated sugar
1 (1/4-oz) package active dry yeast (2 1/2 teaspoons)
3 3/4 to 4 cups all-purpose flour
1 large egg, lightly beaten
2 teaspoons pretzel salt* (see notes)

Special equipment: parchment paper
Instructions:
Stir together sugar, yeast, and 1 1/2 cups lukewarm water (105°F to 110°F - 40°C to 43°C) in a glass measuring cup, then let stand until foamy, about 5 minutes. (If mixture doesn't foam, discard and start over with new yeast.)

Whisk together 3 1/2 cups flour and 1 tablespoon table salt in a large bowl. Add yeast mixture and stir with a wooden spoon until it forms a dough. Dust work surface with 1 tablespoon flour, then turn out dough and knead, gradually dusting with just enough additional flour to make a smooth sticky dough, about 8 minutes. (Dough needs to be somewhat sticky to facilitate rolling and forming into pretzels).

Return dough to bowl and cover bowl tightly with plastic wrap, then let dough rise in a draft-free place at warm room temperature until doubled in bulk, about 45 minutes. Turn out dough onto a clean work surface and cut into 8 equal pieces. Using your palms, roll 1 piece back and forth on a clean dry work surface into a rope about 24 inches long. If dough sticks to your hands, lightly dust them with flour. Twist dough into a pretzel shape. (Dough will retract as you form the pretzel.)

Transfer pretzel with your hands to an oiled baking sheet and form 7 more pretzels in same manner with remaining dough, spacing them 1 1/2 inches apart.

Let pretzels stand, uncovered, about 20 minutes. Meanwhile, put oven rack in upper third of oven and preheat oven to 425°F/220°C. Bring a wide 6-quart pot of water to a boil.

Using both hands, carefully add 3 pretzels, 1 at a time, to boiling water and cook, turning over once with tongs, until pretzels are puffed and shape is set, about 3 minutes. Transfer parboiled pretzels to a rack to cool. Repeat with remaining 5 pretzels in 2 batches.

Line baking sheet with parchment paper and oil paper, then arrange pretzels on sheet. Brush pretzels lightly with some of egg and sprinkle with pretzel salt. Bake until golden brown and lightly crusted, about 35 minutes. Cool 15 minutes, then serve warm.

Notes:
Dough can be mixed and kneaded in a standing electric mixer fitted with dough hook.

Pretzels are best the day they are made. (When they are kept overnight, salt may dissolve.)

Pretzel salt may be purchased online at: kingarthurflour.com, americanspice.com, amazon.com and many other stores on the internet.
Source: Adapted from Gourmet Magazine March 2004
Date: February 28, 2007