Diana's Desserts - www.dianasdesserts.com
See more recipes in
Christmas
Filled Speculaas
in Guest Recipe Book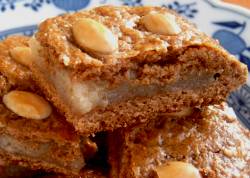 [Be the first to post a review!]
Servings: Makes 1 (9 x 13-inch) pan
Comments:
This is a traditional Dutch recipe. Most of the time just made for the Christmas season. It is called 'Gevulde Speculaas". Since I can't get the real spices, we have just learned to substitute. The taste comes quit close. The almond filling you can make in your own kitchen instead of buying it pre-made at your supermarket. We eat this at Christmas with hot chocolate and it is a real treat.
Ingredients:

Filling:
1 egg
1 cup finely ground almonds
1 Tbsp. lemon juice
1 Tbsp. water
1 Tbsp. almond flavouring
3/4 cup granulated sugar

Base and Top:
1/2 cup margarine and 1/2 cup butter
1/2 cup white (granulated) sugar
1 egg, beaten
2 tsp. baking powder
1/2 tsp baking soda
1 tsp. ground nutmeg
1 tsp. ground allspice
2 tsp. ground cinnamon
2 1/2 to 3 cups all-purpose flour

Egg Wash and Garnish:
1 egg, slightly beaten
Sliced or whole almonds
Instructions:
Filling:
Mix together all filling ingredients and let sit in the fridge over night.

Bottom and Top Crust:
Mix dry ingredients in a bowl. Cut in margarine and butter with a pastry blender. Then add beaten egg. Mix well until you have a firm dough. Put 1/2 of dough in a 9 x 13-inch pan. Put almond filling on top of this. Then cover with the rest of dough. Brush top with slightly beaten egg. Sprinkle with almonds for a decorative look. Poke holes in Speculaas with toothpicks. Bake at 350 degrees F/180 degrees C for 30 minutes or until golden brown.

Enjoy!!

*Note:
I use 2 1/2 cups flour for the dough and put the dough in a glass baking pan, fill and then top with other half of dough and bake at 300 degrees F/150 degrees C for 45 minutes.

Makes 1 (9 x 13-inch) pan.
Source: CACHS Catering Cookbook
Submitted By: Frances Vander Wekken
Date: Dec. 22, 2006