Diana's Desserts - www.dianasdesserts.com
See more recipes in
Christmas
Christmas Fruitcakes
in Guest Recipe Book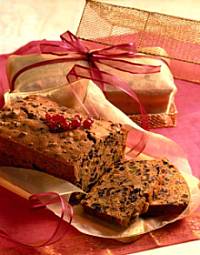 Average Rating:
(total ratings: 3)
[Read reviews]
[Post a review]
Servings: Makes 6 (8 x 4-inch) fruitcake loafs
Comments:
This is my own Christmas Fruitcake recipe I have been making for years. Fruits are better soaked ahead of time, but will be just as good steaming them in water hours before being used. I bake these about mid November or the first saturday of Advent. By Christmas, the cakes are sinful.
Ingredients:

1 pound butter or margarine, softened
1 pound sugar (I use brown sugar, but granulated white sugar is fine)
2 pounds all-purpose flour
1 tbsp. baking powder
1/2 tsp. baking soda
1 tsp. salt
1/2 tsp. nutmeg, freshly grated
1/2 tbsp. ground cinnamon
1/4 tsp. ground cloves
1 tbsp. unsweetened cocoa
1 tbsp. instant coffee, dissolved in 1 tbsp. hot water
1/2 tsp. ground ginger
2 pounds dark raisins
1/4 pound pitted prunes
1 pound candied and/or glace fruits
1 (16 ounce) jar maraschino cherries, drained
Chopped walnuts, to taste
About 1 cup whole or chopped almomds
1 tbsp. vanilla extract
1 1/2 tsp. almond extract
1 bottle good quality brandy
1 bottle port (optional)
12 eggs, well beaten

Instructions:
In a blender, puree prunes with a little rum. Place raisins in a medium saucepan and steam on low heat in about 1/2 cup water, until plumped. Transfer to a large bowl. Pour about 1 cup port and 1 cup brandy over raisins, add pureed prunes. Let stand, covered at room temperature overnight.

Sift flour, baking powder, baking soda, salt, cocoa, and spices together in large bowl. Add candied fruit (or glace fruits) and stir well. Set aside.

Cream butter (or margarine, if using) and sugar with electric mixer until light and fluffy. Add beaten eggs a little at a time, beating well after each addition. Stir in half the flour mixture. Add raisin mixture, stir well with a wooden spoon. Add coffee, then stir in the remaining flour mixture. Fold in nuts and drained maraschino cherries. Add vanilla and almond extracts.

Grease and flour 6 (1 pound/8 x 4-inch) loaf pans. Line bottom and sides of pans with parchment paper or grease-proof baking paper. Fill each pan up leaving about 1/4 inch space from the top. Bake in a preheated 250 degree F/120 degree C oven for about 2 hours or until toothpick comes out clean. As soon as the cakes come out of the oven, pour a mixture of remaining brandy and port over hot cakes. Let cool in pans. Wrap in 2 layers of plastic wrap and then in aluminum foil. Every two or three days pour the brandy mixture over cakes.

Tip:
Keep fruitcakes at room temperature. Do not refrigerate.

Makes 6 (8 x 4-inch) fruitcakes.

By Christmas, they will be perfect. If you cannot find port any rum will do. These make lovely christmas gifts. Everyone will want the recipe.
Source: My Own Recipe
Submitted By: Tessa Crag Chaderton
Date: November 12, 2006
Reviews
Reviewer:
jeanne
Rating:
Review:
I am making this cake this week. will let you know the results. I really enjoy this site. many thanks, jeanne
Reviewer:
bbo
Rating:
Review:
it was great
Reviewer:
Carmalee Watson
Rating:
Review:
I am going to make this cake this weekend and then I can rate the recipe, but as you can see I did rate it as EXCELLENT as i know that is it going to be that way for me, just by reading the recipe, it's EXCELLENT. I like doing baking for myself and to try new things.