Diana's Desserts - www.dianasdesserts.com
See more recipes in
Breads - Biscuits - Rolls - Scones
Angel Biscuits
in Guest Recipe Book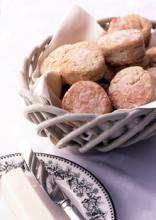 [Be the first to post a review!]
Servings: Makes 20-25 (large) or 50-75 (small) biscuits
Comments:
Traditional biscuits are so intimidating to novice bakers, in part because most recipes require you to make them at the last minute. The object was to come up with something anyone can do, and this is it. The yeast makes the day! The dough is easy to work with, and both dough and baked biscuit can be made ahead.

Ingredients:

1 package active dry yeast
1/4 cup sugar
3 tablespoons warm water (105°F. to 115°F.)
1 teaspoon baking soda
1 tablespoon baking powder
1 teaspoon salt
7 cups all-purpose or cake flour
1 cup vegetable shortening
2 cups buttermilk


Instructions:
Dissolve the yeast and a pinch of sugar in the warm water. Into a large bowl sift the baking soda, baking powder, salt, and the remainder of the sugar, with 6 cups of the flour. Cut the shortening into the dry ingredients with two forks, a pastry cutter, or your fingers until the size of garden peas. Add the yeast mixture to the buttermilk and stir into the flour mixture until all the flour is barely moistened to make a sticky dough. Cover with plastic wrap and refrigerate overnight or up to a week before using.

When ready to bake, preheat the oven to 425°F (220°C).

Place about 1 cup additional flour on the work surface. Place the sticky dough on top of the flour and sprinkle with more flour. Pat out into a round 1/3 inch thick and then fold over to a height of 2/3 inch. Using a 2 1/2-inch biscuit cutter, cut out the biscuits. If you desire a 1 1/2-inch round, make the dough thinner—a total of 1/2 inch. Place the biscuits, their sides touching, on the baking sheet. Bake 10 to 12 minutes, until lightly tinged with brown.

The biscuits can be kept frozen up to 3 months.

Tips On Flour:
Even all-purpose flours vary considerably, according to the brands and the geographic location. Soft wheat flour, sold primarily in the South, and cake flour are much better for biscuits and pie crusts. Hard wheat flours, sold primarily in the North and Midwest, are better for breads. There can be a variation of a half cup per pound of flour according to the type of flour.

Makes 20 to 25 (2 1/2-inch) or 50 to 75 (1 1/2-inch) biscuits.
Source: DianasDesserts.com
Date: April 25, 2002