Diana's Desserts - www.dianasdesserts.com
See more recipes in
Christmas
Chocolate Sticky Toffee Pudding
in Guest Recipe Book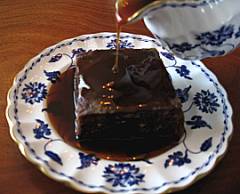 Average Rating:
(total ratings: 2)
[Read reviews]
[Post a review]
Servings: 8-12
Comments:
History of Sticky Toffee Pudding

Originally called "icky sticky toffee sponge", Sticky Toffee Pudding is a British dessert composed of a moist sponge cake made with fine chopped dates (sometimes pureed) and then covered with a toffee sauce. The dessert's origins are considered a "mystery" according to the gastronomic journal, Saveur, however the dominant story is that Francis Coulson developed and served this dessert at his Sharrow Bay Country House Hotel near the Scottish border in the 1960's or early 1970's. It has been stated by Coulson's former protege and chef, Johnnie Martin, that Coulson hinted that the original concept for the dessert was derived from a farmwife in Lancashire, England. However it was also found that the Landlady of The Gait Inn, Millington, invented it in 1907 and was then sold in the pub much to everyone's delight. In any case, Coulson introduced and refined the dessert to the general public making his recipe completely accessable to all those who asked.

Source: wikipedia.com

This version of Sticky Toffee Pudding is a little bit different in the sense that it has grated bittersweet chocolate added to the batter. A definite "plus" for your chocoholic guests.

I suggest serving the pudding warm and with a scoop of vanilla ice cream or a big dollop of whipped cream. It is so yummy and so addicting that your guests will want the recipe. By all means, give the recipe out whenever asked as everyone should try this scrumptious pudding at least once.......Diana, Diana's Desserts
Ingredients:

For Pudding:
8 oz. pitted dates, chopped
1 1/4 cups water
1 teaspoon baking soda
1/4 cup (1/2 stick/2oz/56g) butter, softened
3/4 cup dark brown sugar, firmly packed
2 eggs
1 cup self-rising flour
3 oz. bittersweet chocolate, grated

For Sauce:
1 cup heavy cream
1 cup dark brown sugar, firmly packed
1/2 cup (1 stick/4 oz./113g) butter

Garnish:
Confectioners' sugar (optional)
Instructions:
1. Preheat oven to 350°F (180°C). Butter (or use cooking spray) and line with parchment paper an 8-inch round or square cake pan. Butter (or use cooking spray) parchment paper also.

2. Place the pitted and chopped dates and water in a saucepan and bring to a boil.

3. Remove date/water mixture from heat, stir in the baking soda (mixture will foam up), and let stand for 5 minutes. Purée date mixture in blender or food processor until smooth. Set aside.

4. With an electric mixer cream the butter and sugar. Add the eggs, one at a time, and beat well.

5. With a wooden spoon fold in the flour, the puréed date mixture, followed by the grated chocolate.

6. Pour the mixture into prepared cake pan (or you may use six to eight individual ramekins, pudding molds or muffin tins). Bake in preheated 350 degree F (180 C) oven for 55 minutes or 25 minutes for individual puddings.

7. Prepare the sauce by placing the cream, brown sugar and butter in a saucepan. Stir over low heat until the sugar dissolves. Bring to a boil, then reduce the heat and simmer for 5 minutes.

8. Remove the pudding from oven and let stand for 10 minutes in pan. Leave oven on. Turn pudding out onto a baking sheet. Pour over enough of the sauce to cover the top of the pudding. Return to the oven for 5 minutes.

9. Dust the pudding with confectioners' sugar. Cut pudding into squares or wedges and pour remaining sauce over slices of pudding. Serve with vanilla ice cream, whipped cream or creme fraiche.

Make-Ahead Note:
This pudding can be kept for 1 week in the refrigerator. Heat single slices with sauce poured over in the microwave on High (100% power) for approximately 1 minute.

Photograph taken by Diana Baker Woodall© 2005
Date: December 20, 2005
Reviews
Reviewer:
Annie
Rating:
Review:
great recipe! wonderful but caloric served with vanilla gelato or ice cream.
Reviewer:
Tammie
Rating:
Review:
An easy to make dessert that is spectacular enough to be served for company! Moist and decadant, adding ice cream is almost too much for this dark, rich cake. I used 1 cup all purpose flour plus 1 1/4 tsp baking powder in lieu of the self-raising flour with excellent results! Enjoy!