Diana's Desserts - www.dianasdesserts.com
See more recipes in
Christmas
Rich Steamed Christmas Pudding
in Guest Recipe Book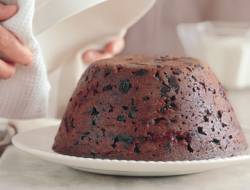 [Be the first to post a review!]
Comments:
The pudding can be made up to three months ahead and kept refrigerated or made up to one year ahead and frozen.

Ingredients:

1½ cups (250g) raisins
1½ cups (250g) sultanas
1 2/3 cups (250g) currants
2 tablespoons sweet sherry
1 medium (170g) apple, peeled, grated
1 medium (120g) carrot, peeled, grated
½ cup (60g) ground almonds
1½ cups (300g) firmly packed dark brown sugar
250g butter, grated
4 cups (280g) stale breadcrumbs
½ teaspoon ground cinnamon
½ teaspoon ground nutmeg
½ teaspoon salt
1 cup (150g) all-purpose flour
4 eggs
2 teaspoons finely grated orange rind
2 tablespoons orange juice

Instructions:
Combine raisins, sultanas and currants with sherry in a large bowl; mix well. Cover and stand overnight, or for several days, stirring occasionally.

Add apple, carrot, almonds, sugar, butter, breadcrumbs, spices, salt and flour; mix well.

Beat the eggs with rind and juice, stir into the mixture.

Grease pudding steamer (2 litre/8 cup capacity), line base with baking paper. Spoon pudding mixture into prepared steamer. Place a 30cm x 40cm sheet of foil on bench, grease foil; top with a sheet of baking paper. Fold a 5cm pleat crossways through the centre of both sheets.

Place sheets, baking-paper-side-down over steamer, secure firmly with string or lid. Crush surplus foil and baking paper firmly around rim to help form a good seal; trim any excess.

Place the pudding in a large boiler with enough boiling water to come halfway up side of steamer. Cover boiler with a tight-fitting lid; steam for 6 hours. Replenish with boiling water as necessary to maintain boil and water level during cooking. Stand pudding for 15 minutes before turning out.

STORING PUDDINGS:
Wrap the pudding thoroughly in plastic wrap then place into an airtight container or freezer bag. Refrigerate puddings for up to three months or freeze for one year.

REHEATING PUDDINGS:
Thaw frozen puddings for 2 days in the refrigerator and remove them from the refrigerator 12 hours before reheating.

STEAMED: Remove the plastic wrap and return to the steamer. Steam for 2 hours following the cooking instructions.

BOILED: Remove the plastic wrap and tie a clean, dry unfloured cloth on the pudding. Boil for 2 hours following the cooking instructions.

TO MICROWAVE: To reheat the whole large pudding, cover with microwave-safe plastic wrap, microwave on medium (50%) for about 15 minutes. To reheat 4 single serves at once, cover with microwave-safe plastic wrap; microwave on high (100%) for about 3 minutes.
Source: Australian Woman's Weekly
Date: January 12, 2005