Diana's Desserts - www.dianasdesserts.com
See more recipes in
Christmas
Penuche
in Guest Recipe Book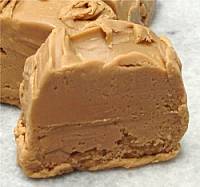 Average Rating:
(total ratings: 7)
[Read reviews]
[Post a review]
Servings: 1 1/4 pounds, approximately 32 pieces
Comments:
What is Penuche?

Penuche is a creamy, fudgelike candy made with brown sugar, butter, milk or cream and vanilla. Chopped nuts are sometimes added. The mixture is heated to the soft-ball stage, whipped until thick and either dropped onto a cookie sheet or poured into a pan and allowed to set. The name is derived from the Mexican word for "raw sugar" or "brown sugar." Penuche makes a delicious treat for gift-giving at Christmas time or anytime during the holiday season.

Definition: From The New Food Lover's Companion, Second Edition, by Sharon Tyler Herbst



Ingredients:

1 1/2 cups granulated sugar
1 cup brown sugar, firmly packed
1/3 cup half-and-half or light cream
1/3 cup milk
2 tablespoons butter
1 teaspoon vanilla extract
1/2 cup chopped pecans or walnuts

Instructions:
1. Line a 8 x 4 x 2-inch or a 9 x 5 x 3-inch loaf pan with foil, extending foil over edges of pan. Butter the foil; set pan aside.

2. Butter sides of a heavy 2-quart saucepan. In saucepan combine sugars, half-and-half or cream, and milk. Cook and stir over medium-high heat till mixture boils. Clip a candy thermometer to side of pan. Reduce heat to medium-low; continue boiling at a moderate, steady rate, stirring frequently, till thermometer registers 236 degree F, soft-ball stage (15 to 20 minutes).

3. Remove saucepan from heat. Add butter and vanilla, but do not stir. Cool, without stirring, to 110 degree F (about 50 minutes).

4. Remove thermometer from saucepan. Beat mixture vigorously with a wooden spoon till penuche just begins to thicken. Add nuts. Continue beating till penuche becomes very thick and just starts to lose its gloss (about 10 minutes total).

5. Immediately spread penuche in the prepared pan. Score into squares while warm. When penuche is firm, use foil to lift it out of pan. Cut penuche into squares. Store tightly covered.

Makes 1-1/4 pounds (32 pieces).

Nutritional Information
Nutritional facts per serving
calories: 80, total fat: 2g, saturated fat: 1g, cholesterol: 3mg, sodium: 11mg, carbohydrate: 15g, fiber: 0g, protein: 0g, vitamin A: 1%, vitamin C: 0%, calcium: 0%, iron: 1%

Date: December 15, 2004
Reviews
Reviewer:
Suzy
Rating:
Review:
Very glad to see this recipe. I bought some American friends some Cornish Granny Wobbly's fudge and they said it was like pneuche. It is - lovely stuff.
Reviewer:
Jo Dorsey
Rating:
Review:
Easy and yummy!
Reviewer:
Patricia
Rating:
Review:
When I first saw it the color and texture reminded me of when I was a young girl and my mother made it. Easy to make and delicious. I gave it as a gift and they drooled over it??
Reviewer:
Susan
Rating:
Review:
I am hooked! How wonderful!! Thank you.
Reviewer:
Meredith Henning
Rating:
Review:
I'm looking forward to giving this as gifts this year, thanks for the recipe :)
Reviewer:
Deborah Rice
Rating:
Review:
My grandmother used to make this all the time when we would stay at her house. That was 60 years ago.
Reviewer:
Kathleen gad
Rating:
Review:
Excellent!! It is delicious. I mistakenly let it cool just a few degrees cooler than I should have. It set up very quickly. Next time I will not make the same mistake.