Diana's Desserts - www.dianasdesserts.com
See more recipes in
Christmas
Parker House Rolls
in Guest Recipe Book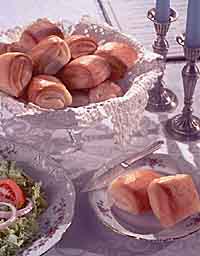 [Be the first to post a review!]
Servings: Makes about 2 dozen rolls
Comments:
Parker House Rolls were created at the famous Parker House Hotel (now called the Omni Parker House) in the 1850's in Boston, Massachusetts. The Boston Cream Pie was also created there. Both of these are still served at the hotel's restaurant.

These rolls, delicately textured and rich with butter, are perhaps the quintessential Sunday (and Holiday) dinner roll.

Ingredients:

1/3 cup warm water
1 package (2 1/4 tsp./1/4 oz./7 grams) dry yeast
2 tablespoons granulated sugar
3 eggs
3/4 cup milk, scalded and cooled
3 tablespoons unsalted butter, at room temperature
2 1/2 to 3 cups bread flour
1 teaspoon salt
1/2 cup melted butter (or more as needed)
2 tablespoons milk

Instructions:
1. Combine the warm water, yeast, and sugar in a large bowl and stir well. Set aside for 2 to 3 minutes or until quite frothy.

2. Lightly beat 2 eggs and add them to the yeast with the milk, butter, 1 1/2 cups of the flour, and the salt. Stir well for several minutes until the dough begins to form long elastic strands. Add more flour gradually until the dough is too heavy to stir.

3. Turn the dough onto a lightly floured work surface, and knead for about 10 minutes, adding enough flour to prevent the dough from sticking. The dough should be moist, smooth, and springy.

4. Place the dough in a large, lightly oiled bowl, cover with a clean cloth, and allow to rise in a warm, draft-free spot for 1 to 2 hours or until double in volume. Lightly grease two 9 x 13-inch baking dishes.

5. Punch the dough down and flatten to about a 1-inch thickness. Cut the dough into rectangles, about 1 inch by 2 inches. Press the dull side of a table knife into the center of each rectangle to make a crease.

6. Brush the rectangles with a thin coating of melted butter, and fold the dough over so that the butter is on the inside.

7. Place the rolls into the prepared pans. They should be close, but not touching one another. Cover the shaped rolls and let them rise until nearly doubled. Preheat the oven to 350 degrees F (180 C).

8. Beat the remaining egg with the milk. Brush the rolls lightly with egg wash and bake them in the preheated oven for 15 to 20 minutes or until golden brown and baked through. Let the rolls cool slightly before serving.

Makes 2 dozen rolls.

Variations on Shaping Rolls
CLOVERLEAF ROLLS
Form dough into one-inch balls. Place three balls into each greased muffin cup. Brush with melted butter.

PARKER HOUSE ROLLS
Roll dough into an oblong shape, about one-fourth inch thick. Cut into three-inch circles and brush with melted butter.

Make a crease across each circle; fold so top half overlaps slightly. Press edges together. Place close together onto greased baking pan. Brush with butter.

CRESCENT-SHAPED ROLLS
Roll dough into a twelve-inch circle, about one-fourth-inch thick. Spread with melted butter.

Cut into sixteen wedges. Roll up, beginning at rounded edge. Place rolls, with point underneath, onto greased baking sheet, curving slightly. Brush with butter.

Preparation Notes:
This dough can be left to rise very slowly in a cool spot, or overnight in the refrigerator. Let the dough return to room temperature before final shaping and baking.

Toppings (optional)
Sesame or poppy seeds can be scattered over the rolls after they have been brushed with egg wash.

Serving Suggestions:
These buttery rolls are at their best when served warm.

Source:
An American Bounty: Great Contemporary Cooking from the Culinary Institute of America. The Culinary Institute of America, 1995, Rizzoli International Publications.

Date: November 23, 2004