Diana's Desserts - www.dianasdesserts.com
See more recipes in
Christmas
Chocolate Cranberry Torte
in Guest Recipe Book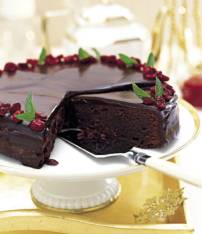 Average Rating:
(total ratings: 2)
[Read reviews]
[Post a review]
Servings: 8-10
Ingredients:

Sauce
1 cup fresh or frozen cranberries
3/4 cup water
1/3 cup granulated sugar
2 tablespoons Chambord (black raspberry liqueur)

Torte
1 cup dried sweetened cranberries
1/3 cup Chambord (black raspberry liqueur)

1 cup (2 sticks/8 oz/226g) unsalted butter, cut into pieces
12 ounces bittersweet (not unsweetened) or semisweet chocolate, chopped
1 1/2 cups granulated sugar
6 large eggs, at room temperature
2/3 cup all-purpose flour
1/2 teaspoon salt

Glaze
1 cup whipping cream
10 ounces bittersweet (not unsweetened) or semisweet chocolate, chopped
1/4 cup Chambord (black raspberry liqueur)

Garnish:
Fresh mint leaves

Instructions:
For Sauce:
Bring first 3 ingredients to boil in saucepan over high heat, stirring until sugar dissolves. Reduce heat to medium; cook until cranberries burst, about 5 minutes. Transfer to processor; puree. Strain puree into bowl; discard seeds. Mix in Chambord. Cover; chill at least 2 hours or overnight (sauce will thicken).

For Torte:
Position rack in center of oven and preheat to 350°F (180 C). Butter and flour 9-inch-diameter springform pan. Line bottom with parchment paper. Stir 3/4 cup cranberries and Chambord in small saucepan over medium heat until liqueur simmers, about 1 minute. Cool to room temperature. Drain cranberries; reserve liqueur and cranberries separately.

Melt butter in heavy large saucepan over medium heat, stirring until beginning to bubble at edges. Remove from heat. Add chocolate; let stand 1 minute. Whisk until chocolate is melted and smooth. Whisk in sugar, then eggs 1 at a time (batter will look grainy). Whisk in reserved liqueur. Add flour and salt; whisk gently until blended. Stir in reserved cranberries; transfer to prepared pan.

Bake torte until top is puffed and cracked and tester inserted into center comes out with moist (not wet) batter attached, about 1 hour. Cool completely in pan on rack. (Can be made 1 day ahead. Cover; store at room temperature.)

For Glaze:
Bring cream to simmer in medium saucepan. Remove from heat. Add chocolate; whisk until melted and smooth. Whisk in Chambord. Let stand until glaze is thick but still pourable, whisking occasionally, about 2 hours.

Line rimmed baking sheet with foil; place cake rack in center. Cut around torte to loosen; remove pan sides. Place 8-inch-diameter cardboard round or 8-inch tart pan bottom on top of torte. Holding cardboard and springform pan bottom, turn torte over and place on rack. Remove pan bottom; peel off paper. Pour 1 1/2 cups glaze over torte. Using icing spatula, smooth glaze over top and sides (re-apply any glaze from foil if necessary). Freeze torte until glaze is set, about 10 minutes. Pour remaining 1 cup glaze over torte and smooth evenly. Sprinkle remaining 1/4 cup dried cranberries around top edge. Freeze until glaze is firm, about 15 minutes. (Can be made 1 day ahead. Transfer to platter. Cover with cake dome and chill. Let stand at room temperature 1 hour before serving.)

Arrange fresh mint leaves between cranberries at top edge of torte. Cut into wedges and serve with sauce.

Makes 8 to 10 servings.
Source: Bon Appétit December 2003
Date: November 16, 2004
Reviews
Reviewer:
Diane Gifford
Rating:
Review:
I have to say, this was the BEST tasting chocolate torte I have ever made! :P I made this for Christmas & I had gotten SO many raves over this recipe!!!!! I told my co-worker about it & she wanted to try a taste (a taste was all that was left..lol) she was drooling over this torte, that's how yummy it was to her too! :) She definietly wants the recipe! Thanks Diana for sharing this wonderful dessert w/ us "onliners"...it was the bomb!!! :P Happy 2007!!!! :)
Reviewer:
Mike Murphy
Rating:
Review:
I made this for a get together with several of my friends, nothing but raves. One lady reported after taking a bite, with this around, who needs a man!