Diana's Desserts - www.dianasdesserts.com
See more recipes in
Breads - Biscuits - Rolls - Scones
Lemon Curd and White Chocolate Filled Scones
in Guest Recipe Book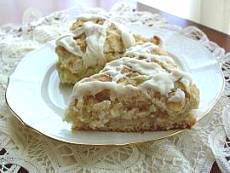 Average Rating:
(total ratings: 7)
[Read reviews]
[Post a review]
Servings: 6-8
Comments:
This recipe is dedicated to Sadie, a guest to Diana's Desserts website. Sadie inspired me to find a recipe for scones that had lemon curd and white chocolate swirled inside of them and white chocolate drizzled over the tops of them.

Sadie, who lives in Canada, had been out one day recently and had one of these (well, similar) luscious scones and thought she had died and gone to "scone heaven".

Hope all of you (especially Sadie) enjoy them as much as my husband Kenny and I do!.....Diana, Diana's Desserts
Ingredients:

2 cups all-purpose flour
1/4 cup granulated sugar
1 tablespoon baking powder
1/4 teaspoon salt
1/4 cup (1/2 stick/2 oz/56 g) cold unsalted butter, cut into small pieces
2/3 cup buttermilk
1/8 cup crystalized ginger, finely chopped or 1 tablespoon fresh ginger root, finely grated or 1/2 teaspoon ground ginger
1/2 cup white chocolate chips or chunks
1/2 cup store-bought lemon curd
Demerara sugar or coarse white sugar (optional)

Topping (optional)
White chocolate, for drizzling over scones* (see note below about melting chocolate)
Instructions:
Preheat oven to 400 degrees F (200 C). Lightly spray one cookie sheet with non-stick cooking spray.

Mix together flour, sugar, baking powder and salt in a large mixing bowl. Cut in cold butter with a pastry blender or with 2 criscrossing knives, until mixture resembles fine crumbs. Stir in buttermilk, ginger and white chocolate chips (or chunks) until dough leaves side of bowl and forms a ball.

Divide dough in half. Place half of dough on prepared cookie sheet; pat or roll into a 7-inch circle. Spread lemon curd over dough to within 1/2-inch of edge. Pat or roll remaining dough into a 7-inch circle; gently place over lemon curd. Gently pinch edges to seal. Sprinkle top with demerara sugar or coarse white sugar, if desired.

Cut surface of dough into 8 wedges, making cuts 1/4 inch deep (do not cut into lemon curd). Bake in preheated 400 degree F (200 C) oven for 18-20 minutes or until golden brown. Let cool for 5 minutes before drizzling melted white chocolate over top.

Topping:
Melt white chocolate and drizzle over top of scones in a zig-zag design. Cut scones into wedges. Serve warm or at room temperature. Store scones in an airtight container at room temperature.

Makes 6-8 scones.

*Note:
Melting Chocolate

Melt chocolate in the top of a double boiler over hot, not boiling, water (too high a temperature changes the flavor and color).

Speed up melting by first cutting the chocolate into small pieces, so that more surface area is exposed to the heat.

Stir chocolate constantly while melting to keep the temperature consistent throughout.

You can also melt chocolate in the microwave. Heat dark chocolate on medium heat (50% power) and milk and white chocolate on low heat (30% power). Stir every 15 seconds, heating the chocolate until just melted (stop when the chocolate is partially melted and stir to melt the remainder).

TIPS: Make sure the melting pan does not touch the water in the bottom pan or it will become too hot.

Remember, chocolate is an oil-based product, and oil and water don't mix. Be careful not to drip any water into the chocolate. One drop of moisture in the chocolate makes it tighten and become unsatisfactory for dipping. Thoroughly dry all spoons, whisks, and bowls used for stirring or melting chocolate.

If chocolate starts to harden after melting, add enough vegetable oil to liquefy.

Source for Melting Chocolate: Linda Stradley - What's Cooking America - http://www.whatscookingamerica.net

Photograph taken by Diana Baker Woodall© 2004
Source: DianasDesserts.com
Date: June 27, 2004
Reviews
Reviewer:
Erica
Rating:
Review:
Diana, this is delicious. You are a very, very, very, very good cook!
Reviewer:
Sadie
Rating:
Review:
I'm obsessed with scones and these are wonderful. The combination of the tart lemon curd and the sweet white chocolate is perfect. The scones are nice and crusty on the outside and tender and buttery inside. If I'm in a hurry I don't bother rolling the dough into 2 circles, but simply drop the dough into 8 piles (reserving some of the dough), make an indentation in the top of each and fill with lemon curd, then put about a tablespoon of the reserved dough over top of the curd (it doesn't matter if it's not completely covered), sprinkle with Turbinado sugar and bake. Sometimes I don't even cover the curd with batter, but regardless of what method I use, I always drizzle the scones with melted white chocolate. I add the zest of a lemon to the batter, and I've increased the butter to 1/3 cup. If you like scones, you won't be disappointed with these.
Reviewer:
Mauro
Rating:
Reviewer:
jade
Rating:
Review:
bloody oath these scones are bloody good..
Reviewer:
linda
Rating:
Review:
Excellent Scone! The tart of lemon with the sweet of the white chocolate is delicious!
Reviewer:
Rhonda
Rating:
Review:
These are the best scones I have ever tasted. After the first bite, I had to immediately share them or I knew I would be eating them all.
Reviewer:
sam
Rating:
Review:
Converting it all to UK measurements was ok until I got to the buttermilk. I tried to make it but 1 cup made it all too runny. Tasted nice though.