Diana's Desserts - www.dianasdesserts.com
See more recipes in
Breads - Biscuits - Rolls - Scones
Mayo Tuna Buns
in Guest Recipe Book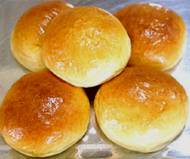 Average Rating:
(total ratings: 6)
[Read reviews]
[Post a review]
Servings: Makes approximately 20 buns
Comments:
I love baking bread ever since my husband bought me a bread machine for my birthday. These buns are one of my family and also my friends favourites. I would like to share this recipe with anyone who would like to try it out.

Happy Baking, Irene
Ingredients:

For the Dough:
300 ml (10 fluid oz. or 1 1/4 cup) cold water
60 gm (2 oz. or 1/2 stick) butter
10 gm (slightly less than 1/2 oz. or 1 1/2 tsp.) salt
1 egg
480 gm (17 oz.) bread flour
120 gm (4 oz.) plain flour (all-purpose flour)
20 gm (slightly less than 1 oz. or 1 tbsp.) powdered milk
110 gm (slight less than 4 oz.) sugar
4 tsp. instant yeast

Filling for the Buns:
400 gm (14 oz.) flaked tuna or salmon
100 gm (3 1/2 oz. or 1/2 of a large onion, you can put more if you like) chopped onions
120 gm (about 4 oz. or 1/2 cup) mayonnaise
1 tsp. lemon juice
pinch of salt
pinch of pepper
Egg wash (for brushing buns with before baking)

Instructions for Filling:
Mix all filling ingredients until well blended. Refrigerate until ready to fill buns.

Instructions:
1. Place the above DOUGH ingredients into a bread machine and set it to the dough setting. Knead for about 25 minutes.

2. Take dough out and put it into a bowl and cover it and let it proof for 50-60 minutes, or until it has doubled in size. Put it in the oven to proof.

Note: The best place to proof the dough is in the oven without switching it on. Put two cups of hot water in the oven to provide some heat and water vapour.

3. After the dough has doubled in size, punch it down. Knead it with your hands for about 1 minute.

4. Divide the dough into 60 gm (2 oz.) portions and shape them into balls. Leave them to rest for 10 minutes.

5. After 10 minutes, lightly flatten the dough balls with the palms of your hands. Put some FILLING inside of each ball and wrap the dough around the filling, making a round bun.

6. Put buns on greased baking trays (it is better if you line the baking trays with baking paper and grease with a little butter). Cover and let buns proof in the oven (like it was done in the first proofing), for 45 minutes.

7. Brush buns with egg wash. Bake at 190 degrees C (375 degrees F) on middle shelf of oven for 10-12 minutes or until golden brown.

Makes approximately 20 buns.
Submitted By: Irene
Date: March 12, 2004
Reviews
Reviewer:
Liana Lee
Rating:
Review:
I tried it on my Kenwood Machine and it turned out superb ! Thanks !
Reviewer:
shane
Rating:
Review:
It was so delicious!!! My hubby and my daughter loved it very much. Thank you Irene for sharing this recipe.
Reviewer:
Nash
Rating:
Review:
hi, do we have to add milk powder? is there any substitute for that?
Reviewer:
noreen
Rating:
Review:
turn out to be so soft and easy to make. thanks for the lovely recipe
Reviewer:
bunny peters
Rating:
Review:
Can't wait to try this recipe. It reminds me of the Tuna Buns sold at Takashimaya Food Court Bakery in Singapore. I don't have a bread machine, so I will make the dough "the old fashioned way".......
Reviewer:
sokelengl
Rating:
Review:
This recipe creates a mouth watering tuna bun. Chilly tuna was used as filling. On top of the original canned tuna, I added in some well browned chopped onion and cracked black pepper. These additional ingredients will enhance the savoury flavour in this bun. I baked the bun with a insulated cookie sheet, therefore it creates less browning at the bottom the bun.