Diana's Desserts - www.dianasdesserts.com
See more recipes in
Breads - Biscuits - Rolls - Scones
Bagels
in Guest Recipe Book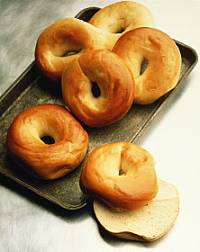 [Be the first to post a review!]
Servings: 12-15 bagels
Comments:
What are Bagels?

Bagels are unique, and uniquely Jewish hard crusted rolls made with yeast. They are traditionally served with lox (smoked salmon) and cream cheese, but today almost everyone eats bagels; toasted with butter or jam, or spread with cream cheese or other types of spreads, and many people love to make sandwiches using bagels. There are so many varieties of bagels in supermarkets and deli's today, and there are even stores that specialize in selling, just bagels. Today, we are given so many delicious choices of flavors and textures of these marvelous breads to choose from.

When the book " A World Of Breads" by Dolores Casella (author of this wonderful bagel recipe) was written in 1966, bagels had not yet become so enormously popular all over the world as they are today.

This recipe from "A World of Breads" is for water bagels that are both boiled in water and then baked, using both eggs and vegetable oil in the ingredients.
Ingredients:

3 cups bread flour or all-purpose flour PLUS 1/4 cup for flouring the bread board
1 teaspoon salt
4 tablespoons sugar
1 package cake yeast OR 1 envelope (2 1/4 teaspoons) active dry yeast
2/3 cup warm potato water* (see note below)
3 tablespoons vegetable oil
2 large eggs
4 quarts boiling water
Instructions:
Sift the flour, salt, and 2 tablespoons of the sugar into a large mixing bowl. Dissolve the yeast in 1/3 cup of the warm potato water and add yeast to the flour mixture.

Add the oil to the remaining potato water and stir into the flour mixture. Then add the eggs and stir until dough forms a ball.

Turn out onto a floured board and knead thoroughly for at least 5 minutes.

Place the dough in a buttered bowl, cover, and let rise until doubled.

Then punch the dough down and let it rise again. Punch down again, turn out onto a floured board, and knead again, until the dough is smooth and elastic.

Divide the dough into 12-15 portions and form each portion into a strip about 6 inches long and 3/4 inch thick. Pinch the ends together to form rings.

Add the remaining 2 tablespoons sugar to the boiling water. Drop the bagels into the water one at a time, cooking 4 or 5 at once, depending on the size of the pot. Simmer the bagels for 5-6 minutes from the time they rise to the surface of the water. Then lift them out of the water with a long handled fork and place them on a very lightly greased cookie sheet.

Let them cool for about 5 minutes. Then place them in a 375 degree F oven, and bake for 25-35 minutes, or until the crust is golden brown and crisp.

Makes 12 to 15 bagels.

Bagel Variations
You may sprinkle the bagels with poppy or sesame seeds before baking. Or blend some finely minced sauteed onion into the dough before kneading and sprinkle more finely minced, sauteed onion on the tops of the bagels before baking.

*Notes
Making Potato Water
What you'll need to make potato water are a few potatoes which can be any type of boiling potatoes such as, New Potatoes, Fingerling Potatoes, Round White Potatoes, or Round Red Potatoes, or really just any type of potatoes you have in your kitchen. Just put a few potatoes in a pot with boiling salted water, and cook until potatoes, when stuck with a fork, are somewhat on the soft side, (about 20 to 30 minutes depending on the type and size of potatoes you use). Use 2/3 cup of the warm potato water for this recipe.

The book "A World of Breads" by Dolores Casella, (which is my favorite cookbook on bread making) can be purchased "used" on Amazon.com.
Source: A World of Breads, by Dolores Casella
Date: February 25, 2002