Diana's Desserts - www.dianasdesserts.com
See more recipes in
Christmas
Fruitcakes for Gift-Giving
in Guest Recipe Book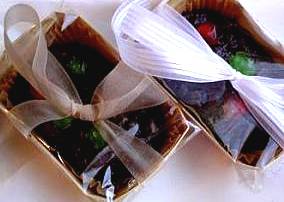 Average Rating:
(total ratings: 1)
[Read reviews]
[Post a review]
Comments:
"No, no, not the dreaded FRUITCAKE.." Fear not, this moist, dark and chocolatey fruitcake is loaded with yummy tasting dried fruits and nuts, not the icky, bitter citrus peel you remember from your childhood."

This recipe is adapted from King Arthur Flour's website. It is called "Fruitcake Even Fruitcake Non-Lovers Will Love".

This delicious fruitcake makes a wonderful "goody" for gift-giving during the holiday season. The recipe will make several mini-cakes for gifts, and there is enough batter left over for you to make a cake for your family too.
Ingredients:

Dried Fruit:
1 1/2 cups dried pineapple
1 1/2 cups sultanas or raisins
1 cup dried apricots cubes
1 1/2 cups dates
6 oz. candied red or green cherries, or a combination of both
1/3 cup diced crystallized ginger, optional
3/4 cup dark rum, brandy or cognac

Fruitcake Batter:
1 cup (2 sticks) butter, or 1/2 cup butter mixed with 1/2 cup prune butter-also called Lekvar
2 cups dark brown sugar
1 teaspoon salt
1 teaspoon ground cinnamon
1/4 teaspoon ground allspice
1/4 teaspoon ground nutmeg
1 teaspoon baking powder
4 large eggs
3 cups unbleached all-purpose flour
2 tablespoons black cocoa OR 1 teaspoon burnt sugar
1/2 cup golden syrup or dark corn syrup
1/2 cup apple juice, cranberry juice or water
2 cups toasted almonds, pecans or walnuts, chopped
Rum, Brandy, Cognac or Vanilla Syrup, for topping

Garnish: (optional)
Candied cherries
Pecans, walnuts or almonds

*Note:
King Arthur Flour sells Fruitcake Fruits; a delicious mixture of dried fruits made especially for fruitcake, and the perfect amount for this recipe. (If interested in purcahsing "Fruitcake Fruits" at King Arthur Flour, go to their website: http://www.kingarthurflour.com)
Instructions:
The Fruit:
Combine all of the fruit ingredients (including the diced crystallized ginger, if using) and rum (or brandy or cognac, if using) in a non-reactive bowl and soak overnight. The fruits can be covered with plastic wrap and left out at room temperature or put in the refrigerator overnight.

The Batter:
Preheat oven to 300 degrees F (150 C). Grease the bottom and sides of the pan (s) or line pan (s) with parchment paper. This recipe makes enough for 7 mini-loaves; 16 loaves baked in mini-loaf pan sets; two 9 x 5-inch loaves, or one 10-inch bundt or tube style cake.

Cream the butter (or combination of butter and prune butter, if using) until soft; then add the sugar, salt, spices and baking powder. Beat in the eggs one at a time. In a separate bowl whisk together the flour and cocoa. Add about half of the flour mixture and all the syrup to the batter. Then add the remaining flour and the juice or water and mix well. Fold in the fruits, any remaining liquid from the soaked dried fruit, and the nuts. Spoon the batter into the pan (s), filling them about 3/4 full.

Bake the cake (s) on the middle shelf of a preheated 300°F (180°C) oven, 65 minutes for the smallest loaves, 75 minutes for the medium loaves, 2 hours, 15 minutes for the large loaves, and 2 hours and 15 minutes if you are using a 10-inch bundt or tube style pan. The cake (s) are done when a cake tester inserted into the center comes out clean.

Remove the cake (s) from the oven, and brush them with the rum, brandy or cognac. Let them cool, then remove them from the pan (s). Brush all surfaces with rum, brandy, or cognac (or vanilla syrup, if using).

Note: If you like just a hint of rum, brandy or cognac flavor, add 1 tablespoon of liquor to 3/4 cup Vanilla Syrup and brush this mixture on the cake (s).

Garnish:
If desired, garnish top of cake (s) with candied cherries, or with both candied cherries and pecans, walnuts or almonds.

Wrap the cake(s) in parchment paper, then in aluminum foil or plastic wrap, and store them in a cool, dry place. Unwrap the cake (s) every week (for up to 5 weeks) and brush them with more rum, brandy, cognac, or syrup. By the fifth week the cake (s) will have absorbed as much liquid as they're able. They'll keep for several months this way, as long as they're tightly wrapped. The flavor improves and mellows over time.

Gift-Giving Ideas
For gift-giving, wrap the fruitcakes in clear or colored cellophane wrap, and tie with a colorful ribbon or bow. Place a gift tag with the cake, and give to friends or family.

Makes 1 (10-inch) bundt or tube style cake, or 2 (9x5-inch) loaves, or 7 (5x3-inch) mini loaves, or 16 mini loaves baked in mini loaf pan sets.

Source:
This recipe was adapted from King Arthur Flour's website. It is called "Fruitcake Even Fruitcake Non-Lovers Will Love". The recipe has been changed slightly, and How to Toast Walnuts and Pecans, and How to Toast Almonds was added to this revised recipe by Diana's Desserts. Also, the two versions on How to Make Homemade Vanilla Syrup was added by Diana's Desserts. Using prune butter (Lekvar) in place of part of the butter in this recipe is also an option added by Diana's Desserts.

*Notes:

Black cocoa and diced crystallized ginger may be purchased online at King Arthur Flour. Their web address is: http://www.kingarthurflour.com.

Prune Butter (also called "Lekvar") may be purchased at most supermarkets. It is usually found on the aisle where jams and jellies are kept, or on the baking ingredients aisle. It may also be purchased online at Netgrocer.com.

How To Toast Pecans or Walnuts
Toasting nuts brings out their flavor. To toast pecans or walnuts, place them in an ungreased shallow baking sheet, or a cookie pan with rim, and toast them in a pre-heated 350 degree F (180 C) oven just until they become aromatic, about 5-7 minutes. Watch them carefully so that they don't burn, but heat up enough to toast.

How To Toast Almonds
Preheat oven to 350 degrees F (180 C). Spread almonds in one layer on ungreased shallow baking pan. Bake for 10 to 15 minutes, stirring occasionally, until golden.

How To Make Homemade Vanilla Syrup

Vanilla Syrup Made with Vanilla Extract

Ingredients
2 cups water
2 cups granulated sugar
2 tablespoons pure vanilla extract

Instructions
1. In medium saucepan over medium high heat, bring water and sugar to a boil.
2. Cook until mixture thickens slightly, about three minutes.
3. Remove from heat, stir in vanilla and let cool to room temperature.
4. Refrigerate in an airtight container for up to two weeks.

Vanilla Syrup Made with Vanilla Beans

Ingredients
2 vanilla beans
1/2 cup water
1 cup granulated sugar

1). Cut vanilla beans in half crosswise and then again lengthwise. Combine all the ingredients in a small glass or enamel saucepan and stir to mix. Bring to a boil over medium heat. Boil for 5 minutes.

2). Strain the syrup through a fine sieve into a 1-cup glass measuring cup. Allow the syrup to cool to room temperature and chill it for at least 2 hours before using. You can keep this in the refrigerator for 3 to 4 weeks.

Photograph taken by Diana Baker Woodall© 2003

Date: December 17, 2003
Reviews
Reviewer:
Linda
Rating:
Review:
Very easy to put cake together. Not too sweet. A word of caution : watch the cake, don't let it burnt!