Diana's Desserts - www.dianasdesserts.com
See more recipes in
Christmas
Steamed Christmas Persimmon Pudding
in Guest Recipe Book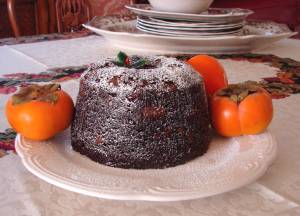 [Be the first to post a review!]
Servings: 6-8
Comments:
Persimmon
Definition: [puhr-SIHM-muhn] The most widely available persimmon in the United States is the Hachiya, also called Japanese persimmon. It's large (up to 3 inches in diameter) and round, with a slightly elongated, pointed base. The Fuyu persimmon is smaller and more tomato-shaped. When ripe, both have a red-orange skin and flesh. The Hachiya is quite soft when completely ripe and has a smooth, creamy texture and a tangy-sweet flavor. If eaten even slightly underripe, it will pucker the mouth with an incredible astringency. The Fuyu, however, is still firm when ripe and is not at all astringent. Persimmons are available from October to February. Choose fruit that is plump and soft but not mushy (the Fuyu should be quite firm). The skin should be smooth, glossy and brightly colored. Persimmons that are not quite ripe can be ripened at room temperature. Store ripe fruit in the refrigerator for up to 3 days. Persimmons can be used in baked goods, puddings and other desserts, as well as eaten out of hand. They contain a good amount of vitamin A and some vitamin C.

Steamed Pudding
Definition: A sweet or savory pudding that is cooked (usually in a special steamed-pudding mold) on a rack over boiling water in a covered pot. The pudding mold is usually decorative so that when the finished pudding (which is firm) is unmolded it retains its decorative shape. Steamed puddings can take up to 3 hours to cook on stovetop, half that time in a pressure cooker. They're customarily served with a sauce. The traditional Christmas plum pudding, for instance, is customarily accompanied with hard sauce.

Source: The New Food Lover's Companion, Second Edition, by Sharon Tyler Herbst

Since persimmons are available only during a short time during the late fall and early winter, this is a terrific fruit to use for making holiday desserts. Add raisins or nuts to the pudding, and if desired, use extra spices such as nutmeg, ginger or ground cloves.
Ingredients:

3 large (about 1 pound total) very ripe and soft Hachiya persimmons, with stems removed
1/2 cup (1 stick/4 oz./113 gm) unsalted butter, softened
6 tbsp. brown sugar, firmly packed
6 tbsp. granulated sugar
1 large egg, beaten
1 cup sifted unbleached all-purpose flour
1 3/4 tsp. baking soda
1 tsp. ground cinnamon
1/4 tsp. salt
1/2 cup milk
1 tsp. pure vanilla extract
Boiling water

For Flambe: (optional)
1/3 cup brandy

Garnish (optional):
Confectioners' sugar
Holly Sprig (real or artificial)

To Serve:
Vanilla ice cream or whipped cream

You will need:
1). 1-quart pudding mold
2). Large stock pot with lid (pot must be taller than the pudding mold)
3). Kettle or large pot for boiling water
4). 1 small trivet or rack, for placing inside the bottom of large stock pot
5). Either a blender or a food processor
Instructions:
Purée the persimmons (with the skins) in a blender or the bowl of a food processor; set aside. Beat the butter and sugars together in a large bowl until light and fluffy. Add the beaten egg and combine thoroughly.

Sift the flour, baking soda, cinnamon, and salt together in a separate bowl. Add the dry ingredients, one third at a time, to the butter mixture, alternating with the milk. Add the persimmon purée and vanilla and blend thoroughly.

Generously butter a 1-quart mold. Pour the batter into the mold and cover tightly with a buttered lid or aluminum foil.

Place a rack in a pot taller than the mold. Place the mold on the rack and add enough boiling water to reach the middle of the mold. Cover the pot with a lid or aluminum foil. Place over medium heat on the stove top (It can also be baked in a preheated 325°F/160°C oven.) Cook until firm, about 1 1/2 to 2 hours. Check the water level frequently and add more boiling water if necessary to maintain the same level.

Transfer mold to cooling rack; remove the lid and let cool until lukewarm.

To serve, invert the pudding onto a serving plate and lift off the mold. If desired, dust with confectioners' sugar and garnish top with a holly sprig.

Brandy Flambe: (optional)
In a small saucepan, warm the brandy over medium heat just until it begins to bubble around the edges. Immediately remove from the heat and ignite with a match. Pour the flaming brandy over the warm pudding. When the flames die, serve the pudding immediately with vanilla ice cream or whipped cream.

Makes 6-8 servings.

Photograph taken by Diana Baker Woodall© 2006
Source: DianasDesserts.com
Date: December 9, 2003