Diana's Desserts - www.dianasdesserts.com
See more recipes in
Christmas
Mini Pecan Tarts
in Guest Recipe Book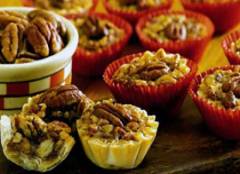 [Be the first to post a review!]
Servings: 24
Comments:
These pastries are ideal for entertaining and gift-giving. Garnish the tarts with whipped cream (if serving at home) or place a pecan half in the center of each tart (for gift-giving) and put each individual tart in a pretty miniature paper muffin or cupcake cup and wrap several tarts in cellophane paper with a colorful ribbon for holiday gift-givng.

Ingredients:

2 1/2 cups all-purpose flour
2/3 cup confectioners' sugar
1 teaspoon salt
10 oz. (2 1/2 sticks) chilled unsalted butter, cut into pieces
4 egg yolks, lightly beaten with 2 tablespoons water
Pecan Tart Filling *(See Pecan Tart Filling recipe below)
Whipped cream or Pecan Halves, for garnish

Instructions:
In the bowl of a food processor, combine the flour, sugar and salt and pulse once to mix. Add the butter and process in short pulses until pea-size crumbs form, 20 to 25 seconds. While pulsing, add the egg yolk mixture and process until large, moist crumbs form, 10 to 15 seconds more.

Turn the dough out onto a lightly floured surface, shape the dough into a ball and divide it in half. Shape each half into a flat, 5-inch disk, cover with plastic wrap and refrigerate for at least 1 hour.

Position a rack in the center of an oven and preheat to 400ºF (200ºC).

Working with one piece of dough at a time, roll out to 1/4-inch thickness. Using a 3-inch round cookie cutter, cut out 12 rounds. Repeat with second piece of dough. Transfer a round to each well of a 12 or 24 well mini-tart plaque or mini-muffin pan. Using your fingers, press the pastry to fit into the well. Bake until the tart shells are evenly golden and crisp, 18 to 22 minutes. Transfer the pan (s) to a wire rack and cool for 5 minutes, then remove the tart shells from the pan (s) and cool to room temperature.

Fill each tart shell with 1 1/2 tablespoons pecan tart filling*(See recipe below for Pecan Tart Filling). Garnish each tart with whipped cream or place a pecan half in center of each tart.

Makes 24 mini tarts.

Pecan Tart Filling

Makes enough filliing for 24-36 mini pecan tarts

Ingredients
1 cup confectioners' sugar
1/2 cup (1 stick) butter
1/3 cup dark corn syrup
1 cup chopped pecans

Instructions
Combine confectioners' sugar, butter and corn syrup in 2-quart saucepan. Cook over medium heat, stirring occasionally, until mixture comes to a full boil, 4 to 5 minutes. Remove from heat; stir in chopped pecans.

Makes enough filling for 24-36 mini pecan tarts.

Source: DianasDesserts.com
Date: December 2, 2003