Diana's Desserts - www.dianasdesserts.com
See more recipes in
Christmas
Eggnog Snickerdoodles
in Guest Recipe Book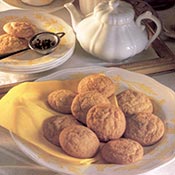 [Be the first to post a review!]
Servings: Makes 40 large cookies
Comments:
I use heaping teaspoons and get 40 large cookies per batch.

Ingredients:

3 1/4 cups all-purpose flour
1 1/2 cups granulated sugar
1 cup margarine, softened
2 extra large eggs
1 tablespoon cream of tarter
1/2 cup (store bought) eggnog
2 tablespoons dark rum
1/2 teaspoon salt
1 teaspoon ground nutmeg

Instructions:
Using a mixer set on slow speed mix together sugar and softened margarine; then increase the speed of mixer until creamed.

Add the eggnog, the 2 eggs and the rum; beat slowly until well blended, then whip at high speed a minute or so.

Stop the mixer; add the nutmeg, cream of tarter and salt and start blending slowly as you pour the 3 1/4 cups of flour into the mix.

Build up the speed until mixture is well blended and looks light and fluffy.

Drop by teaspoons onto a well greased cookie sheet sprinkling the tops of the cookies with a pinch of sugar and a shake or two of nutmeg.

Bake at 400 degrees F (200 C) for approximately 10 minutes or when the edges of the cookies turns light brown. Remove from oven and cool on wire racks until cool, and enjoy.

Note: These Snickerdoodles are golden brown and very soft and will melt in your mouth. Allow plenty of space between the cookies for spreading. I use heaping teaspoons and get 40 large cookies per batch.

Makes 40 large cookies.
Source: John Grunden
Submitted By: John Grunden
Date: November 14, 2003