Diana's Desserts - www.dianasdesserts.com
See more recipes in
Breads - Biscuits - Rolls - Scones
Pesto Bread Loaf
in Guest Recipe Book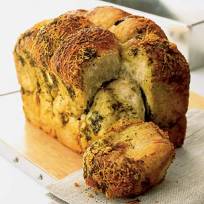 [Be the first to post a review!]
Servings: Makes: 1 loaf; about 6 servings
Comments:
Notes: Frozen bread dough is usually sold in a 3-pound package. The recipe can be doubled and made in an angel food cake pan. Rising and baking times remain the same; bake on baking sheet to catch drippings. If possible, begin the bread just 2 hours before serving, since it's best eaten while warm.

A delicious bread to serve with soup or salad on a crisp autumn or winter's day.
Ingredients:

Cooking oil spray
Flour
1 loaf (1 lb.) frozen white bread dough, thawed according to package directions
1/4 cup pesto sauce or spread
1/4 cup grated parmesan cheese
Instructions:
1. Coat an 8 x 4-inch or 9 x 5-inch loaf pan with cooking oil spray.
2. Place thawed bread dough on a lightly floured board. Cut into 4 equal pieces. Cut each quarter into 4 pieces, making 16 pieces total.
3. With hands, roll each piece into a ball and place 8 in bottom of pan. Spread 2 tablespoons pesto over top. Sprinkle with 2 tablespoons cheese.
4. Top with remaining balls of dough; there should be spaces in between them. Spread remaining pesto over top and sprinkle with remaining cheese.
5. Cover with plastic wrap and let rise in a warm place for 45 to 60 minutes or until bread almost reaches top of pan.
6. Position oven rack in lower third of oven. Preheat to 375°F (190°C). Remove plastic wrap from bread and bake uncovered for 30 to 35 minutes or until deeply browned.
7. Cool 10 minutes and turn out onto serving plate or bread board.

Makes 1 loaf, 6 servings.
Date: November 5, 2003