Diana's Desserts - www.dianasdesserts.com
See more recipes in
Breads - Biscuits - Rolls - Scones
English Muffins
in Guest Recipe Book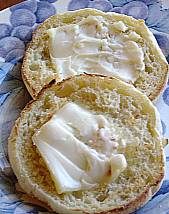 Average Rating:
(total ratings: 1)
[Read reviews]
[Post a review]
Servings: Makes 18 English Muffins
Comments:
English Muffins

This round, rather flat (about 3 inches in diameter by 1 inch high) "muffin" is made from a soft yeast dough that, after being formed into rounds, is baked on a griddle. It can be made at home but is readily available commercially in an assortment of flavors including sourdough, whole wheat, raisin, cinnamon and cornmeal. English muffins are halved before toasting. In order to produce a surface with the proper peaks and craters (which adds to their crunchy texture and provides plentiful pockets for butter and jam), English muffins must be fork-split and gently pulled apart. Using a knife to cut them in half will not produce the desired result.

Source: The Food Lover's Companion, 2nd edition, 1995 by Sharon Tyler Herbst.

Topped with butter and jam, homemade English muffins are a real treat any day of the year. They'll keep for several days stored in a plastic bag, or for several weeks in the freezer. That is, if there are any left by the end of the day.

Ingredients:

1 cup milk
3 tablespoons butter, cut into pieces
2 tablespoons honey
1 cup warm water (110° F/45° C)
1 package (1/4-ounce) active dry yeast
Cornmeal
5 1/2 to 6 cups all-purpose flour
1 teaspoon salt

Instructions:
1). Combine the milk, butter, and honey in a medium-size saucepan. Warm the mixture over medium-low heat until the butter starts to melt, then whisk it briefly. Remove the pan from the heat and allow the liquid to cool until lukewarm.

2). While the milk cools, pour the water into a medium-size mixing bowl and sprinkle the yeast over it. Stir the liquid gently with a fork. Set the bowl aside for 5 to 10 minutes, until all of the yeast has dissolved.

3). Line two baking sheets with waxed paper and sprinkle on a generous amount of cornmeal. (This is where you'll set the muffins to rise.)

4). Pour the cooled milk into the dissolved yeast and gently stir the mixture until well blended. Add 3 cups of flour and the salt to the liquid and beat the mixture vigorously with a wooden spoon until smooth (about 100 strokes). Beat in enough of the remaining flour, about 1/3 cup at a time, so that the dough is firm enough to knead and no longer sticky.

5). Scrape the dough from the bowl onto a floured surface. Dust the top of the dough with flour. Flour your hands as well, and knead the dough for 3 to 4 minutes. Let the dough rest for about 5 minutes.

6). Roll out the dough with a rolling pin, starting in the middle and pushing the pin from the center out, until the dough is a half inch thick.

7). Cut the dough into circles with a 3 1/2-inch biscuit or cookie cutter. Gather and reroll the scraps and cut out more circles (you should end up with 18).

8). Transfer the muffins to the prepared baking sheets, spacing them well apart. Sprinkle cornmeal on the tops. Cover the muffins with a dry, lightweight towel and let them rise until they are almost doubled in height,about 35 to 45 minutes.

9). When the muffins have risen, heat a large, heavy, ungreased skillet over medium heat. (If you have two skillets, you may want to prepare both so you can cook more muffins at once.) Or you can use an electric griddle heated to 300° F (150°C). Carefully lift the muffins from the waxed paper and place them in the heated pan or griddle, spacing them an inch or so apart. You should be able to fit 4 or 5 muffins in each pan.

10). Cook the muffins for about 10 minutes on each side, using a spatula to flip them. You may have to adjust the heat if the muffins are browning too quickly or slowly. Transfer each batch of cooked muffins to a wire rack to cool before splitting with fork tines, and toasting them. Serve muffins warm with butter and jam, jelly or preserves.

Makes 18 English Muffins.

Photograph taken by Diana Baker Woodall© 2003
Source: DianasDesserts.com
Date: September 10, 2003
Reviews
Reviewer:
Mystyk
Rating:
Review:
The BEST english muffins I have ever tasted, without a doubt! I add about a half a tsp. of cinnamon and a bunch of raisins and make the flour about 50% whole wheat and they are to die for. Just plain YUMMY!