Diana's Desserts - www.dianasdesserts.com
See more recipes in
Breads - Biscuits - Rolls - Scones
Maryland Beaten Biscuits
in Guest Recipe Book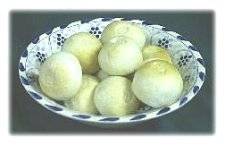 Average Rating:
(total ratings: 13)
[Read reviews]
[Post a review]
Servings: Makes 18 (golf ball size) biscuits
Comments:
What are Beaten Biscuits?

Maryland Beaten Biscuits originated in Southern Maryland and the Eastern Shore in the days of the Plantations and Manors. Probably due to the lack of leavening, this method of making bread and setting it to rise was apparently the only way possible. This could have been the outgrowth of the Indian method of beating corn for making food items. The biscuits consist of lard, flour, salt, and water. Prior to cooking the biscuits, they have to be beaten in some manner. Originally the ingredients were mixed together by hand, and the dough then placed on a smooth wooden block or stump. A servant of the manor would beat the dough with a special ax used only for this purpose. This beating process served to trap air inside the dough. Each biscuit was, and still is shaped by hand, kneaded by the fingers to make the biscuit smooth on all sides.

Source: Orrell's Maryland Beaten Biscuits
Orrell's Maryland Beaten Biscuits
P.O. Box 7
Wye Mills, Maryland 21679
Website: http://www.beatenbiscuits.com
Ingredients:

4 cups all-purpose flour
1-1/2 tablespoons lard
1 teaspoon salt
1-1/2 to 1-3/4 cups cold water
Instructions:
Preheat oven to 425 degrees F (220 C).

Sift the salt and flour together (and baking powder, if using). Cut in the lard or vegetable shortening. Add the water slowly to mixture until a dough is formed.

By hand, beat the dough with a heavy rolling pin on a floured countertop for 35 to 40 minutes until blistering occurs on surface of dough.

Shape the dough into balls, and prick the tops with a fork.

Bake biscuits on cookie sheet for 25 to 28 minutes at 425 degrees F (220 C).

Serve biscuits warm with butter, or butter and jam at breakfast. They are also great with a slice of tomato and a piece of ham for lunch.

Tip:
Let me give you a tip when mixing these biscuits. Less is more with the water. Too much water results in a sticky dough and is too hard to work with, so I stay close to the 1 and 1/2 cups of water.

Makes 18 (golf ball size) biscuits.
Source: Internet
Submitted By: John Grunden
Date: September 1, 2003
Reviews
Reviewer:
Patrica
Rating:
Review:
poor
Reviewer:
penny
Rating:
Review:
It's awesome!
Reviewer:
Diana
Rating:
Review:
great!
Reviewer:
Sam
Rating:
Review:
Yum!
Reviewer:
Susan
Rating:
Review:
Excellente!
Reviewer:
jen
Rating:
Review:
sweet
Reviewer:
marlene
Rating:
Reviewer:
marrisa
Rating:
Reviewer:
John Cain
Rating:
Review:
One of my favorites since I was a kid, however you have to acquire the taste, either you love them or you hate them.
Reviewer:
Jacqueline Gross
Rating:
Review:
I didn't use to like these as a kid, but now I just LOVE them!
Reviewer:
Lizzie
Rating:
Review:
Great!
Reviewer:
Les Riggin
Rating:
Review:
I beat the biscuits as a kid, 1000 times with a 2 lb hammer. 70 yrs. ago
Reviewer:
Jack Coleman
Rating:
Review:
My Grandmother & Great aunt made these biscuits over 70 years ago. I grew up eating them and still love them to this very day. I just had a couple as a snack about 10 minutes ago. I bought them in St Michaels, MD. - my home town, after attending my 58th high school reunion. Wish I had the large oak beating block and iron beating rod that we used when I was young. They can't be too good for you and have that unique flavor which is unforgettable and the beating time was about 30 minutes, uninterrupted.