Diana's Desserts - www.dianasdesserts.com
See more recipes in
Breads - Biscuits - Rolls - Scones
Sourdough Starter for Bread Machine
in Guest Recipe Book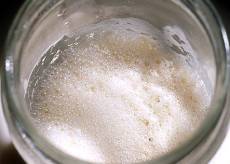 Average Rating:
(total ratings: 2)
[Read reviews]
[Post a review]
Comments:
Keep this simple starter on hand and you'll be ready to make sourdough bread whenever you like. Be sure to use unbleached all-purpose flour, as bread flour can give the starter a stringy quality.

Ingredients:

1-1/2 teaspoons active dry yeast or bread machine yeast
3/4 cup warm water (105° to 115° F/40° to 46°C)
3 cups warm water (105° to 115° F/40° to 46°C)
3 cups unbleached all-purpose flour
4 teaspoons granulated sugar or brown sugar

Instructions:
1. To Make The Starter:
Dissolve the yeast in the 3/4 cup warm water. Add the 3 cups warm water; stir in flour and sugar. Beat with an electric mixer on medium speed until smooth.

2. Cover with 100-percent-cotton cheesecloth. Let stand at room temperature (70°-80°F/21°-26°C) for 5 to 10 days or until the mixture has a sour, fermented aroma, stirring 2 or 3 times every day. (The fermentaion time will depend upon the room temperature. A warmer room speeds the fermentation process.) When the mixture has fermented, transfer to a 2-quart (2 litre) or larger plastic or glass container with a loose fitting lid. Refrigerate the starter until needed.

3. To Use The Starter:
Remove starter from the refrigerator and stir thoroughly. Measure the amount needed for recipe and bring it to room temperature before using. (The cold starter should be the consistency of buttermilk or thin pancake batter. If necessary, add water to thin the starter after it is stirred and before it is measured.)

4. To Replenish The Starter:
For each cup of starter used, replenish the remaining starter by stirring in 3/4 cup unbleached all-purpose flour, 3/4 cup water, and 1 teaspoon granulated or brown sugar. Cover and let mixture stand at room temperature for at least 1 day or until bubbly. Refrigerate starter for later use.

Note: If you have not used the starter within 10 days, stir in 1 teaspoon granulated or brown sugar. Repeat every 10 days unless starter is replenished.
Date: May 23, 2003
Reviews
Reviewer:
Annette
Rating:
Reviewer:
Jim Gemborys
Rating:
Review:
This isn't a true sourdough starter due to the use of active dry yeast. Authentic sourdoughs are derived from wild, uncultivated yeasts found on flour. All you really need for a sourdough starter is unbleached flour, water, proper instructions, and the time and patience to cultivate a starter. No yeast or sugar is required. The recipe is really for a high hydration poolish. A poolish isn't a bad thing in that it adds flavor and helps develop some gluten for the loaf.