Diana's Desserts - www.dianasdesserts.com
See more recipes in
Breads - Biscuits - Rolls - Scones
Brioche à tête
in Guest Recipe Book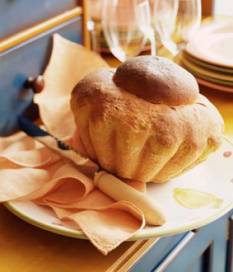 [Be the first to post a review!]
Servings: 1 loaf (about 12 servings)
Comments:
Distinguished by its topknot, Brioche à tête is traditionally baked in a fluted mold. Rich and buttery, this bread goes easily from simple to spectacular depending on what you serve it with. If you have the time, you can make the dough, proof, and bake it all in the same day; otherwise, make the dough one day, refrigerate it overnight for a slow cold rise, then give it its final rise and bake it the next day.


Ingredients:

3 1/4 cups bread flour
1 package (2 1/2 tsp/.25 oz/7g) instant active dry yeast
2 tablespoons granulated sugar
1 teaspoon salt
1/2 cup milk
1/2 cup (1 stick/4 oz./113g) plus 2 tablespoons unsalted butter, cut into small pieces
4 large eggs
1 tablespoon fresh lemon juice plus grated zest from 1 lemon
1 egg
Instructions:
1. Make the Dough:
In a food processor fitted with metal blade, pulse to mix 3/4 cup flour, yeast, sugar, and salt. In a small saucepan, heat milk and butter until very warm, about 115 degrees F/46 degrees C. Add milk and butter to dry ingredients and process for 30 seconds. Break 3 eggs, one at a time, through feed tube with the motor running. Add lemon juice, zest, and remaining flour. Process for 45 more seconds. Turn dough out onto a lightly floured surface, form a ball, and knead a few moments by hand.

2. Proof the Dough:
Coat a large bowl with 1 tablespoon butter and add ball of dough, turning to coat all sides. Cover with a clean, damp kitchen towel and let rise in a warm, draft-free place until doubled in size -- about 1 hour. Stir down the dough, re-cover, and refrigerate overnight. About two hours before serving, turn the chilled dough out onto a lightly floured surface and punch it down. Cover it with the damp towel and let rest for 15 minutes.

3. Form the Brioche:
Soften 2 tablespoons of butter and coat a 9 1/2-inch (24cm) brioche pan. Measure out 1/2 cup of dough and set aside. Shape remaining dough into a ball and place in brioche pan. Roll reserved dough into a ball, make an indention in the center of the larger ball, and place the small ball in the depression. Cover with the towel and let rise in a warm, draft-free place until doubled in size, about 1 hour.

4. Bake the Brioche:
Preheat oven to 375 degrees F/190 degrees C. In a small bowl, whisk egg yolk from remaining egg with 2 teaspoons of water. Brush the brioche with this mixture and bake until golden brown, about 40 minutes. Brioche will sound hollow when tapped. Remove from the pan and serve warm. Store in an airtight container.

Makes 1 loaf (about 12 servings).
Source: DianasDesserts.com
Date: May 8, 2003