Diana's Desserts - www.dianasdesserts.com
See more recipes in
Breads - Biscuits - Rolls - Scones
Sourdough Bread
in Guest Recipe Book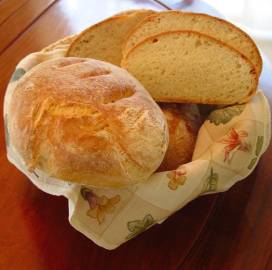 Average Rating:
(total ratings: 2)
[Read reviews]
[Post a review]
Servings: Makes 3 round loaves
Comments:
Using a sourdough starter is an ancient method of beginning to make a leavened bread. The starter consists of small amounts of some of the basic bread ingredients, such as flour, water, milk and, in this recipe, yogurt. This mixture is left out to attract wild yeasts from the air. The yeasts feed on the starch in the flour, resulting in the fermentation and souring of the mixture and creating a base to which additional ingredients can be added to make a dough. The starter may be left to develop for many days, depending on the desired degree of sourness.
Ingredients:

1 1/2 cups lukewarm water (100°F/37°C).
4 tsp. active dry yeast
1 cup classic sourdough starter (see recipe on this website in My Recipe Book under the Breads category)
1 tbsp. honey
6 cups bread flour, plus more as needed
1 tbsp. unsalted butter, melted
2 eggs
2 1/2 tsp. salt
2 tbsp. yellow cornmeal mixed with 2 tbsp. bread flour

Instructions:
In the bowl of an electric mixer fitted with the whisk attachment, combine the water, yeast, sourdough starter and honey. Beat on low speed just until smooth, about 1 minute. Cover with plastic wrap and let stand at room temperature until doubled in bulk, about 1 hour.

Switch to the flat beater and stir the starter mixture on low speed. Add 3 cups of the flour, the butter, eggs and salt. Increase the speed to medium-low and beat until smooth, about 1 minute. Add 2 more cups of the flour and beat for 2 minutes. Switch to the dough hook. Reduce the speed to low and add the remaining flour, 1⁄2 cup at a time, beating until a very soft dough forms that pulls away from the sides of the bowl. Knead on low speed, adding flour 1 Tbs. at a time if the dough sticks, until smooth, springy and moist, about 6 minutes. Scrape down the sides of the bowl. Brush the bowl with a thin film of melted butter and turn the dough to coat it. Cover loosely with plastic wrap and let rise at room temperature until slightly more than doubled in bulk, 1 1/2 to 2 hours.

Line a baking sheet with parchment paper and sprinkle with the cornmeal mixture. Turn the dough out onto a lightly floured board. Divide the dough into 3 equal portions and shape each into a tight, round loaf. Place the loaves, seam side down and at least 4 inches apart, on the prepared sheet. Sprinkle the tops with flour and rub in. Cover loosely with a double layer of plastic wrap and let rise in the refrigerator for 8 to 12 hours.

Place a baking stone on the bottom oven rack and preheat to 450°F (230°C). Using a thin, sharp knife, make 3 gentle slashes across the top of each loaf. With a mister or spray bottle filled with water, mist each loaf lightly before putting the dough into oven. Place the baking sheet on the stone and bake for about 10 minutes, (spray loaves again with mister after 1 minute and then again 2 minutes into baking-*see note below), then reduce the heat to 400°F (200°C) and bake until the loaves are golden brown, 20 to 25 minutes more. Let cool completely on wire racks before slicing and serving.

Makes 3 small round loaves.

*Notes from Diana's Desserts:
Misting the Loaves
Misting the loaves with water from a spray bottle before and 1-2 minutes after they first start baking, helps the sourdough bread to achieve a crispy crust.

Freezing and Re-heating Sourdough Bread

Allow your bread loaf to cool completely. Frozen bread keeps and defrosts well. To freeze, allow the loaf to cool before placing it in freezer bags. Remove all the air from the bag or ice crystals will form during the freezing process. Allow the bread to thaw inside the plastic bags to re-absorb the moisture lost during the freezing process. To defrost your bread, place it, (unwrapped) on a baking sheet. Heat it in a preheated 350°F (180°C) oven, for 10 to 15 minutes.

Adapted from Williams-Sonoma Collection Series, Bread, by Beth Hensperger (Simon & Schuster, 2002).

Photograph taken by Diana Baker Woodall© 2003
Date: May 7, 2003
Reviews
Reviewer:
Hannah
Rating:
Review:
This bread was so easy to make. I thought it would be a problem, especially considering the total time that it had to rise. Excellent flavor and very tender. I loved the way it baked. A lot of breads don't end up baking quite the way the recipes say they will. Overall, I was very impressed.
Reviewer:
CanadianSheWolf
Rating:
Review:
This recipe has been added to my "to do" list!....having found the recipe for a starter similiar to the one I used to use back in the early 70's! Thank you!