Diana's Desserts - www.dianasdesserts.com
See more recipes in
Christmas
White Christmas Pudding
in Guest Recipe Book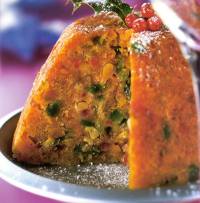 [Be the first to post a review!]
Servings: 8
Ingredients:

50g/2oz. almonds, blanched and chopped
50g/2oz. mixed peel, chopped
50g/2oz. glacé cherries, chopped
40g/1 1/2 oz. angelica, chopped* (see note below)
100g/4oz. no-soak dried apricot, chopped
2 tbsp. cranberry sauce
100g/4oz. freshly made white breadcrumbs
75g/3oz. solid vegetable shortening, coarsely grated
100g/4oz. golden caster sugar, or soft light brown sugar
Grated rind of 1 orange and 2 tbsp. orange juice
100g/4oz. all-purpose (plain) flour
1 tsp. ground mixed spice (or pumpkin pie spice or allspice)
2 eggs, beaten

Instructions:
Lightly grease a 5 cup or a 1 litre pudding mold or basin.

Combine almonds, mixed peel, cherries, angelica, apricots and cranberry sauce in a bowl. Stir in the breadcrumbs, solid vegetable shortening, sugar and orange rind.

Sift the flour with the ground mixed spice (or apple pie spice) then mix them through the other ingredients and finally bind them together with the eggs and orange juice to make a fairly sticky mixture.

Turn the mixture into the pudding mold or basin and press it level. Cover the top with two layers of greased waxed paper or parchment paper with a pleat down the center to allow the pudding to rise. Fasten the cover with string.

Steam the pudding for 2 1/2 hours adding more hot water as needed. Serve dusted with icing sugar and decorated with holly leaves.

Storing the Pudding:
Cool the pudding then cover with fresh waxed paper or parchment paper and store in a cool place for up to 1 month. To reheat, steam for 1 hour.

Makes 8 servings.

*Note: What is Angelica?

Angelica is prized for its crunchy stems, which are often candied and used to decorate baked goods. You can also use the leaves and stems to add a celery flavor to liqueurs, sauces, and vegetable side dishes. Substitutes: lovage (This also tastes like celery, and the stems can be candied like angelica.) OR tarragon.

Candied Angelica can be purchased online at The Pasta Shop at: http://www.rockridgemarkethall.com/
Scroll down the page and on the left hand side click on The Pasta Shop. Then click on Specialty Baking Products, and then click on Dried, Candied and Crystaslized Fruit. You will find the candied Angelica for sale on that page.
Date: May 3, 2003