Diana's Desserts - www.dianasdesserts.com
See more recipes in
Breads - Biscuits - Rolls - Scones
Old Southern Beaten Biscuits
in Guest Recipe Book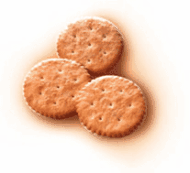 Average Rating:
(total ratings: 8)
[Read reviews]
[Post a review]
Servings: Makes about 30-35 biscuits
Comments:
Beaten Biscuits
Southerners describe beaten biscuits as a cross between a soda cracker and a baking powder biscuit. To achieve the right texture and lightness, the dough had to be beaten hard (usually with a mallet) for at least 30 minutes. The purpose of the beating was to incorporate air into the mixture (this was a time in history before the invention of baking powder). They were a very heavy biscuit, not like our present day baking powder biscuits.

Beaten Biscuits History
Beaten biscuits originated in Virginia and traveled across the mountains to Kentucky and then north to Maryland. Chuck wagon cooks also made them, recruiting a gullible new cowhand for help. They were considered the pride of the South, and in earlier days no Southern hostess would fail to offer these at any and all times of the day. They are one of the delicious hot breads that have made Southern cooks famous. They were basically considered an upper-class status symbol dish that depended on a lot of labor. Making the beaten biscuits was the daily duty of the plantation cook.
Ingredients:

2 1/2 cups all-purpose flour
1/2 tsp. salt
1 tsp. sugar
1/3 tsp. baking powder
1/3 cup shortening
1/3 to 1/2 cup milk


Instructions:
Preheat oven to 375° F (190°C). Lightly grease a large baking sheet.

Sift together dry ingredients. Cut in the shortening (consistency should look like coarse meal). Stir in 1/3 cup milk until dough holds together* (see note below). You may have to add a little more milk if the dough is too dry or crumbly.

Turn onto floured board and knead. Beat with a rolling pin until dough blisters, 100 whacks or more, folding edges in toward the center and turning after every few whacks. Roll dough to 3/8-inch thickness and cut with small round cutter. Using a fork, prick tops two or three times.

Arrange on lightly greased baking sheet and bake at 375°F (190°C) for 30 minutes, or until light golden.

Makes about 30-35 "beaten biscuits".

*Note: The mixing of the dry ingredients, and adding the shortening and milk to dry ingredients can be done in a food processor if desired. Before turning dough out onto a floured board to knead and "beat", you may briefly knead dough in the food processor.

Date: February 5, 2003
Reviews
Reviewer:
Angela
Rating:
Review:
There is nothing like a good beaten biscuit and a great piece of country ham. Warm and delicious
Reviewer:
bobbi
Rating:
Review:
At Christmastime, when my niece sent us a Smithfield uncooked ham, I hope the recipe is worth the time to do justice to the ham!
Reviewer:
Roy Cloggins
Rating:
Review:
This is the best recipe ever!
Reviewer:
Bob Heyward
Rating:
Review:
My mother and grandmother made these for years as a Sunday bread. I'm contiuing the tradition!
Reviewer:
Rocky King
Rating:
Review:
My Mom used to make these in mass production fo sale in Winchester, KY for a lady named Elenore Jones. She was a true Southern Belle. She and my Mom were the only two working there, but they kept them cooking. They supplied local stores such as Gaunces Market. As a child, I remember getting to eat most of the "overcooked" or "Mis-shapen" ones hot out of the oven. Thank you for this recipe, my Mom is 85 now and my wife and I are going to attempt to make a batch for her.
Reviewer:
jan borba
Rating:
Review:
I am so glad to have found this recipe. you see, I work at a living facility for the elderly, and one of the ladies, who is 104 yrs old, always asks me if I've ever heard or made a certain recipe. if I haven't heard of it, I really try to find the particular recipe she is talking about. so far, everything that she has asked for, I've been able to find and make for her. she will be so pleased to hear that I have found southern beaten biscuit recipe. I truly believe it brings back memories for her. remember she is 104 yrs old, and is full of life. Thank You so much.
Reviewer:
barbara danna
Rating:
Review:
very good and has a good taste and texture
Reviewer:
cathy schryer
Rating:
Review:
really yummy and fluffy..they are easy and very tasty