Diana's Desserts - www.dianasdesserts.com
See more recipes in
Christmas
Christmas Ice Cream Cake
in Guest Recipe Book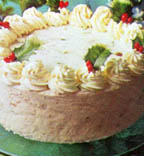 [Be the first to post a review!]
Comments:
A great idea for a very festive ice cream cake for Christmas.
Ingredients:

2 1/3 cups milk
1 cup sweetened condensed milk
1 vanilla junket tablet
1 tablespoon milk, extra
1 teaspoon vanilla extract
1½ tablespoons gelatin
4 tablespoons water
60g (2 oz) raisins
60g (2 oz) sultanas
60g (2 oz) crystallised ginger
60g (2 oz) glace cherries
60g (2 oz) slivered almonds
3 tablespoons rum
1 cup heavy cream

Instructions:
Put milk and condensed milk into saucepan, stir over low heat until just lukewarm, remove from heat. Crush junket tablet, dissolve in the 1 tablespoon of extra milk, stir into warm milk with vanilla.

Soften gelatine in water, dissolve over hot water, allow to cool but not set. Stir cooled gelatine mixture into milk mixture, mix well. Pour into shallow trays, refrigerate until set.

Spoon mixture into large bowl of electric mixer, beat on high speed for 10 minutes; the mixture will increase in bulk. Combine chopped raisins, sultanas, chopped ginger and cherries in bowl.

Toast and finely chop almonds, combine with rum. Fold fruit, almonds and rum into ice-cream mixture.

Beat cream until soft peaks form, gently fold into mixture, mix well. Pour mixture into greased deep 20cm (8 in.) cake tin, which has been lined with greased parchment or waxes paper. Cover with aluminium foil, put in freezer, freeze overnight.

To serve, unmould cake on to serving plate; decorate with extra whipped cream, if desired. After removing from freezer, allow cake to stand in refrigerator for 45 minutes. This will make cutting and serving easier.

Makes 8 servings.

Date: January 6, 2003