Diana's Desserts - www.dianasdesserts.com
See more recipes in
Christmas
Venetian Christmas Bars
in Guest Recipe Book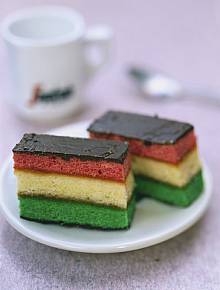 Average Rating:
(total ratings: 4)
[Read reviews]
[Post a review]
Servings: Makes 4 dozen bar cookies
Comments:
Make these rich almond-flavored bars for a festive Christmas bar cookie. Pack the cookies in Christmas tins and give as gifts to friends and family.

Tip:
For best flavor, make the cookies up to 3 days before serving and store them covered in the refrigerator.
Ingredients:

4 large eggs, separated
1 cup granulated sugar
1 tube or can (7 to 8 ounces) almond paste
1 1/4 cups (2 1/2 sticks/10 oz/283g) margarine or butter, softened
1 teaspoon almond extract
2 cups all-purpose flour
1/4 teaspoon salt
20 drops red food coloring
20 drops green food coloring
5-10 drops yellow food coloring, for coloring the uncolored batter, (using yellow food coloring for the uncolored batter is optional)
1 jar (12 ounces) apricot or raspberry preserves, warmed, strained and cooled* (See Notes below)
4 squares (1 ounce each) semisweet chocolate, melted
2 tablespoons (1/4 stick/1 oz/28g) unsalted butter, (melted with chocolate)
Instructions:
1. Preheat oven to 350 degrees F (180 degrees C). Grease 3 (15 1/2 x 10 1/2-inch) jelly-roll pans* (See Notes below) and line pans with waxed paper, allowing waxed paper to extend over ends of pans. Grease and flour waxed paper.

2. In small bowl, with mixer at high speed, beat egg whites with 1/2 cup sugar until stiff peaks form; set aside.

3. In large bowl, with same beaters, and with mixer at medium speed, beat almond paste and remaining 1/2 cup sugar until well blended (there will be some small lumps of almond paste remaining). Reduce speed to medium-low; beat in margarine or butter until blended. Beat in egg yolks and almond extract until blended. Reduce speed to low; beat in flour and salt just until combined.

4. With rubber spatula, fold egg-white mixture into almond mixture, one-third at a time, until combined.

5. Remove one-third of batter (about 1 1/2 rounded cups) from large bowl to small bowl. Remove half of remaining batter from large bowl to another small bowl. (You should have equal amounts of batter in each bowl.) Stir red food coloring into 1 bowl of batter until evenly blended. Repeat with green food coloring and another bowl of batter. At this point you may add the yellow food coloring to the "uncolored batter" if desired, (this is optional).

6. Spread uncolored or yellow, (if using yellow food coloring) batter in 1 jelly-roll pan. With metal spatula (offset, if possible), spread batter as evenly as possible (layer will be about 1/8 inch thick). Repeat with red batter and another pan. Repeat with green batter and remaining pan.

7. Bake layers 10 to 13 minutes, rotating pans halfway through cooking time, until layers are just set. It is important to under cook this batter slightly to ensure moist cookie layers. (If you don't have enough oven space for 3 pans, you can bake 2 layers at once, then bake the last layer separately.)

8. Let layers cool slightly in pans on wire racks, about 5 minutes. Invert layers onto racks, leaving waxed paper attached; cool completely.

9. When all 3 layers are cooled, remove waxed paper from green layer. Place green layer on serving tray or platter; spread with half of apricot or raspberry preserves. Place white layer on top of green layer, waxed-paper side up; remove waxed paper. Spread with remaining apricot or raspberry preserves. Place red layer on top of white layer; remove waxed paper.

10. With serrated knife, trim edges (about 1/4 inch from each side). Spread melted chocolate/butter mixture on top of red layer (not on sides); refrigerate until chocolate is firm, at least 1 hour. If you like, after chocolate has set, cover and refrigerate stacked layers up to 3 days before cutting and serving.

11. To serve, cut stacked layers lengthwise into 4 strips. Cut each strip crosswise into 12 small rectangles. Store cookies in tightly covered container, with waxed paper between layers, in refrigerator.

Nutritional Information
Each cookie contains approximately 130 calories, 2 g protein, 15 g carbohydrate, 7 g total fat (1 g saturated), 18 mg cholesterol, 85 mg sodium.

Notes:
1) A good idea is to slightly warm the preserves in a medium saucepan on very low heat; then strain and cool preserves slightly before spreading. This makes the preserves easier to spread over the layers.

2) If you have only 1 jelly-roll pan, you can still make this recipe. Just bake layers 1 at a time, and be sure to let pan cool completely before reusing.

Makes 4 dozen bar cookies.
Date: November 28, 2002
Reviews
Reviewer:
Dominic
Rating:
Review:
I HAVE MADE DOULBE & TRIPLE RECIPES WITH NO PROBLEMS. I LOST MY GRANDMOTHER'S RECIPE AND THIS HAS BEEN ADDED TO MY COOKIE GIFTS.
Reviewer:
Ellen Mcgravey
Rating:
Review:
I fount this hard to spread out onto the jelly roll pan; I thought it would fill the pan and since it didn't wonder why we can't use a smaller size
Reviewer:
donna king
Rating:
Review:
i made this twice. i used three 9-inch pans the second time; perfect. also i added heavy cream to the chocolate and made a ganache, much better.
Reviewer:
suzette dodge
Rating:
Review:
The recipe works better if you let the cakes staked on top of each other stay in refrigerator overnight with something heavy on top. Then the next day spread the chocolate on.