Diana's Desserts - www.dianasdesserts.com
See more recipes in
Christmas
Danish Julekage (Christmas Loaf)
in Guest Recipe Book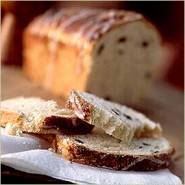 [Be the first to post a review!]
Servings: Makes 1 loaf (16 servings)
Ingredients:

For Dough:
4-1/4 cups all-purpose flour, divided
3 tablespoons granulated sugar, divided
1/3 cup chopped almonds
1/3 cup raisins
1/4 cup nonfat dry milk
2 tablespoons chopped candied citron
2 tablespoons chopped candied lemon peel
2 tablespoons chopped candied orange peel
1 teaspoon salt
1 teaspoon grated lemon rind
1/2 teaspoon ground cardamom
1 package dry yeast (about 2-1/4 teaspoons)
1/2 cup warm water (100 to 110 degrees)
6 tablespoons unsalted butter, softened
1 teaspoon vanilla extract
2 large eggs, lightly beaten
Cooking spray
1 tablespoon milk
1/8 teaspoon salt
1 large egg
1 tablespoon turbinado or granulated sugar

For Glaze:
1/2 cup confectioners' sugar
2 teaspoons water
1/4 teaspoon almond extract


Instructions:
To Prepare Dough:
Lightly spoon flour into dry measuring cups, and level with a knife. Combine 4 cups flour, 2 tablespoons granulated sugar, almonds, and the next 8 ingredients (almonds through cardamom) in a bowl.

Dissolve 1 tablespoon of granulated sugar and yeast in warm water in a large bowl; let stand 5 minutes. Stir in butter, vanilla, and 2 beaten eggs until well-blended. Gradually add flour mixture; stir to combine. Turn dough out onto a lightly floured surface. Knead until smooth and elastic (about 8 minutes); add enough remaining flour, 1 tablespoon at a time, to prevent dough from sticking to hands.

Place dough in a large bowl coated with cooking spray, turning to coat top. Cover and let rise in a warm place (85 degrees), free from drafts, 1 hour and 45 minutes. Dough will not double in size. (Press two fingers into dough. If indentation remains, the dough has risen enough.)

Punch dough down; let rest 5 minutes. Roll into an 11 x 9-inch rectangle on a lightly floured surface. Roll up rectangle tightly, starting with a short edge, pressing firmly to eliminate air pockets; pinch seam and ends to seal. Place, seam side down, in a 9 x 5-inch loaf pan coated with cooking spray. Cover and let rise 1 hour and 30 minutes.

Preheat oven to 375 degrees.

Uncover the dough. Combine milk, 1/8 teaspoon salt, and 1 egg; brush lightly over loaf. Sprinkle with turbinado or granulated sugar. Bake at 375 degreesF for 45 minutes or until loaf sounds hollow when tapped. Remove from pan; cool on a wire rack.

To Prepare Glaze:
Combine the confectioners' sugar, water, and almond extract in a small bowl. Drizzle over loaf.

Makes 1 loaf (16 servings).
Source: DianasDesserts.com
Date: November 17, 2002