Diana's Desserts - www.dianasdesserts.com
See more recipes in
Christmas
Chocolate-Almond Yule Log
in Guest Recipe Book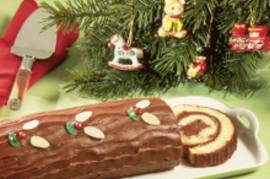 [Be the first to post a review!]
Servings: 8-10 servings
Ingredients:

1/2 cup granulated sugar
1/2 cup water
6 large eggs, separated
3/4 teaspoon cream of tartar
2/3 cup sugar, divided
1/2 teaspoon vanilla extract
1/2 teaspoon almond extract
1/4 teaspoon salt
1/2 cup ground almonds
1/4 cup all-purpose flour
Confectioner's sugar
1 tablespoon almond- or cherry-flavored liqueur, optional
Chocolate frosting (about 2 cups)
Sliced blanched almonds, optional
Cinnamon candies, optional
Sliced green glace cherries, optional
Instructions:
Lightly grease 15 1/2 x 10 1/2 x 1-inch jelly roll pan. Line bottom with waxed paper. Grease again. Set aside.

In small saucepan, bring 1/2 cup sugar and water to boiling. Reduce heat. Simmer 1 minute. Set aside to cool.

In large mixing bowl, beat egg whites with cream of tartar at high speed until foamy. Add 1/3 cup of the sugar, 2 tablespoons at a time, beating constantly until sugar is dissolved (rub just a bit of meringue between thumb and forefinger to feel if sugar has dissolved) and whites are glossy and stand in soft peaks.

In small mixing bowl, beat egg yolks at high speed until thick and lemon-colored, about 3 to 5 minutes. Gradually beat in remaining 1/3 cup of the sugar until blended. Beat in vanilla, almond extract and salt. In small bowl, stir together ground almonds and flour. Sprinkle over whites. Add beaten yolk mixture. Gently, but thoroughly, fold yolk mixture and almond mixture into whites. Pour into prepared pan. Gently spread evenly.

Bake in preheated 400° F oven until top springs back when lightly touched with finger, about 10 to 12 minutes. Dust clean tea towel with confectioner's sugar. With spatula, loosen cake from sides of pan and invert onto prepared towel. Carefully pull waxed paper off bottom of cake. Trim all edges with serrated knife.

Stir liqueur, if desired, into cooled, reserved sugar syrup. Spoon evenly over inside surface of hot cake. Starting from short edge, roll up cake, rolling towel with cake. Place wrapped roll seam-side down on wire rack until cool, about 30 minutes.

Carefully unroll cake. Spread with about 1 cup chocolate frosting. Reroll. Place seam-side down on serving platter. Spread with about 1 cup additional frosting, using small spatula to create tree-bark effect. Garnish with sliced almonds, candies and cherries, if desired.



Note: If prepared in advance, baked and cooled cake may be frozen without filling. Wrap well with aluminum foil or plastic wrap. To thaw, let wrapped cake stand at room temperature about 1 hour.

Makes 8-10 servings.
Source: DianasDesserts.com
Date: November 16, 2002