Diana's Desserts - www.dianasdesserts.com
See more recipes in
International Desserts and Treats
Pan di Spagna
in Guest Recipe Book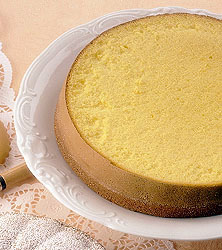 [Be the first to post a review!]
Servings: 1 (10-inch) cake
Ingredients:

2/3 cup all-purpose flour
1/2 cup cornstarch
5 large eggs, separated
1 cup sugar, divided
2 teaspoons vanilla extract
Pinch salt
Instructions:
Nick Malgieri notes that pan di Spagna is the most popular type of cake in Italy. Like the genoise in France, this sponge-like cake serves as a foundation for many elaborate desserts, such as cassata and zuppa inglese; Nick uses it to make his chocolate-filled dome cake. Italians also serve the cake plain with coffee or tea.

1. Set rack in middle of oven and preheat to 350 degrees F. Butter a 9- or 10-inch springform pan and line the bottom with buttered waxed or parchment paper.

2. In a small bowl, stir together flour and cornstarch, transfer mixture to a fine-mesh strainer and set aside.

3. In the bowl of an electric mixer fitted with the whisk attachment, whip egg yolks, half the sugar, and the vanilla on medium speed for 2 minutes, until they are light and fluffy.

4. In a clean, dry mixing bowl of an electric mixer fitted with a clean, dry whisk attachment, whip egg whites and salt on medium speed until white and opaque. Add remaining sugar 1 tablespoon at a time, and continue whipping until whites hold a firm peak when the whisk is lifted.

5. Using a large rubber spatula, fold yolk mixture into whites. Sift ¼-1/3 of flour mixture over eggs and fold in; repeat 2 or 3 times until all of the flour mixture has been incorporated. Scrape batter into prepared pan and smooth the top. Bake until well risen, well colored, and beginning to shrink away from the sides of the pan, 30-40 minutes.

6. Remove cake from oven and immediately run a knife around the side to loosen it from the pan; remove side. Slide cake, still on paper, from pan bottom to wire rack to cool.

7. Cool cake completely before slicing to use in other desserts. Cake may be wrapped in double layer of plastic wrap and refrigerated up to several days or frozen up to 2 weeks.
Source: Diana Baker Woodall
Submitted By: Adapted From Nick Malgieri's Great Italian Desserts