Diana's Desserts - www.dianasdesserts.com
See more recipes in
International Desserts and Treats
Scottish Petticoat Tails Shortbread
in Guest Recipe Book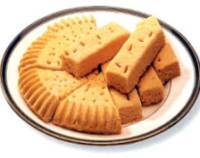 [Be the first to post a review!]
Servings: Makes 12 wedges
Comments:
This is the real thing, it can't be made in a factory. Using the fine semolina gives the shortbread a wonderful crunchy texture, and the flavor is extremely buttery.
This is a thinner, crisper version of the traditional Scottish shortbread. It was popular with the ladies of both the Scottish and French courts in the fifteenth century.


Ingredients:

6 oz. (175g) butter (must be room temperature)
3 oz. (75g) golden caster suger or granulated sugar,
plus extra for dusting
6 oz. (175g) all-purpose flour, sifted
3 oz. (75g) fine semolina flour


Instructions:
You will also need an 8 inch (20cm) round fluted tart pan, 1 1/4 inches (3cm) deep with a removeble base. Pre-heat the oven to 300°F (150°C).

Beat the butter in a bowl with a wooden spoon to soften it, then beat in the sugar, followed by the sifted flour and semolina. Work the ingredients together with the spoon, pressing them to the side of the bowl, then finish off with your hands until you have a smooth mixture that doesn't leave any bits in the bowl.

Next transfer the dough to a flat, lightly floured surface, and roll it out lightly to a round (giving it quarter turns as you roll) about the same diameter as the pan, then transfer the round dough to the pan. Now lightly press the mixture evenly into the pan right up to the fluted edges (to make sure that it is even you can give it a final roll with a small glass tumbler). Finally, you must prick the shortbread all over with a fork or it will rise up in the center while it's baking.

Bake the shortbread for 60-70 minutes on the center shelf of the oven - it should have turned pale gold and feel firm in the center. Then remove it from the oven and, using a palette knife, mark out the surface into 12 wedges. Leave it to cool in the pan. When it is cold, push base of pan up to removes pan sides and cut shortbread into wedges. Dredge with the sugar and store in an airtight container.

Makes 12 shortbread wedges.
Source: DianasDesserts.com
Date: October 18, 2002