Diana's Desserts - www.dianasdesserts.com
See more recipes in
International Desserts and Treats
Viennese Topfenstrudel with Vanilla Sauce
in Guest Recipe Book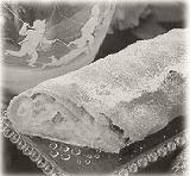 Average Rating:
(total ratings: 6)
[Read reviews]
[Post a review]
Servings: 6-8
Comments:
The traditional dough for Topfenstrudel is a flaky dough almost transparent, similar to a phyllo dough.

The traditional fillings that are used are apple, cherry, raisin, and cream cheese or "Quark" (austrian for a type of cream cheese). These Topfenstrudels are filled with warm juicy fruit fillings and cream cheese (quark) enfolded in a crispy leaf pastry. The strudel is rolled and baked until golden. The crescent shaped strudel is then cooled and then sliced on the diagonal.

This homemade strudel recipe incorporates store bought frozen puff pastry. Although not traditional strudel dough, you will find that it saves many hours of preparation time.

Remember to keep your dough as chilled as you can. Since the flaky dough is layered with butter you need to work fast to keep the butter from melting through the layers of dough, which may lessen the flakiness of the final product.
Ingredients:

1 package frozen puff pastry sheets (you will only need one sheet)
2 apples (Macintosh preferred), cored and sliced into 1/4 inch slices
1/4 cup brown sugar
1/2 cup granulated sugar
1/2 tablespoon ground cinnamon
1 tablespoon all-purpose flour
1/4 cup raisins (optional)
4 oz. whipped cream cheese
4 oz. creamy cottage cheese (on the dry side)
1/8 teaspoon vanilla extract
1/2 stick (2 oz.) unsalted butter, melted and slightly cooled
Confectioners' sugar, for dusting top of strudel

Vanilla Sauce (see recipe below)


Instructions:
Combine the apple slices, brown sugar, 1/4 cup of the granulated sugar and cinnamon in to a large mixing bowl. Let this mixture rest for 30 minutes and then drain with a colander.

Transfer the apples back to a bowl. Add the flour to the apple mixture and gently mix. The apple mixture should still have some juice but only a small amount. Stir in raisins at this point (if using). Set aside.

Now in a separate bowl prepare the cheese filling mixture. Combine the whipped cream cheese, cottage cheese, vanilla and 1/4 cup of the sugar. Mix thoroughly. Set aside.

Dust a large cutting board with some sugar and roll out the puff pastry. Roll until you have doubled the size keeping the shape rectangular. Brush the dough with some melted butter.
Then smear the cheese filling over the puff pastry leaving a 1/2 inch boarder around all the edges. Sprinkle about 1/8 cup sugar over the cheese filling. Now evenly distribute the apple slices over the cheese filling. Drizzle a little butter over the fillings.

Start rolling the puff pastry away from you. Do not tear or crack the dough. Intermittently tuck in the edges of the dough and then continue rolling until 2 inches from the end. Brush the top of the roll with some butter and then gently bring the last 2 inch flap of puff pastry over the roll. Pinch slightly to seal the edge. Carefully place the rolled dough into a buttered aluminum baking pan and shape into a large crescent. Brush some egg white on the top and sprinkle with a little sugar. Bake at 350 degrees F. for about 50 minutes.

Dust top of strudel with confectioners' sugar, and serve with ice cream, whipped cream, or vanilla sauce.

Makes: 6-8 servings

Vanilla Sauce:

Ingredients:
1 1/2 cup milk
4 egg yolks
1/2 tsp. granulated sugar
1/2 tsp. vanilla extract
1 oz. orange flavoring or extract (optional)
1/2 cup cold milk

Instructions:
Bring the 1 1/2 cups of milk to a boil. Remove and set aside. Place egg yolks, sugar, vanilla and optional orange flavor in a mixing bowl and whisk until mixture forms "ribbons."

Combine hot milk and egg mixture in a saucepan and cook over low heat stirring constantly with a rubber spatula or wooden spoon until sauce thickens. (Test by coating a spoon or spatula with mixture and running finger across it, if the sauce is thick and smooth and does not run together; it is at the proper consistency.)

Remove from heat and incorporate the cold milk. Strain through a sieve and chill in a container placed in a bowl of ice water. When cool, cover and refrigerate until service. Sauce may thicken when refrigerated, if too thick add additional cold milk to achieve desired consistency. Drizzle sauce over strudel, or drizzle sauce on each dessert plate, and place slice of strudel on top of vanilla sauce.
Source: Cookbook
Date: October 16, 2002
Reviews
Reviewer:
Katie Manley
Rating:
Review:
I recently tried this dessert in Austria on holiday, and when I got home I thought about how easy or hard it would be to make it, so I found this recipe and I have to say that it is just as good as the Austrian one. Well Done!
Reviewer:
Solomiya
Rating:
Review:
it was excellent!!! just like an austrian one.
Reviewer:
Alexandra
Rating:
Review:
I made my filling too liquidy and I made my own dough and rolled it out too thin so you can imagine what happened. Apples and whipped cream cheese everywhere. Very messy. It still tasted really good.
Reviewer:
Solomiya
Rating:
Review:
it was excellent!!! just like an austrian one. But vanilla sause didn't come out right two times for me.
Reviewer:
Solomiya
Rating:
Review:
AWESOME TREAT, SO QUICK TOO
Reviewer:
Sarah
Rating:
Review:
Hello! Just wanted to share with you guys that 'Quark' is a Standard German word used solely in Germany and Austrians use the word 'Topfen', hence Topfenstrudel. Plus, Topfen is curd cheese and not cream cheese. :)