Diana's Desserts - www.dianasdesserts.com
See more recipes in
International Desserts and Treats
Danish Flødeboller
in Guest Recipe Book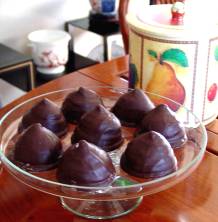 Average Rating:
(total ratings: 6)
[Read reviews]
[Post a review]
Servings: 25 flødebollers
Comments:
Flødebollers are a Danish version of chocolate covered marshmallow cookies or confections with a wafer type base that we find here in the United States, except so very much better.
While I lived in Denmark for a short time, I would buy these freshly made flødebollers from confectionery shops. Sometimes they were coconut coated over the chocolate, and various shops made different flavors, such as coffee or mocha flavor.
Be creative, and try your own flavoring or topping to these wonderful treats...............Diana
Ingredients:

For Flødeboller Base:
1 1/4 cups all-purpose flour
3 1/2 ounces butter or margarine
5 tablespoons granulated sugar

The Flødeboller Filling*
6 egg whites
1/2 - 3/4 cup sugar

For Chocolate Coating:
12 ounces good quality bittersweet or semisweet chocolate coating, or
12 1 ounce squares of bittersweet or semisweet baking chocolate


Instructions:
Preheat oven to 390-400 degrees F. Line 1 or 2 jellyroll pans (with at least 1/2 inch sides) with parchment paper or wax paper.

For Flødeboller Base:
In a large mixing bowl, combine flour and butter (or margarine), and mix in sugar to make a dough. Roll out dough very thin, about 1/8 of an inch thick. With a 2-2 1/2 inch cookie cutter, cut out approximately 25 round circles. Place rounds of dough onto prepared jellyroll pans, and bake at 390-400 degrees F for 10 minutes. Remove from oven and let cool on rack.

For Filling:
Whip egg whites until very stiff peaks form. Add sugar slowly to beaten egg whites. Pipe the egg white filling onto the baked and cooled round flødeboller bases. Place in oven and bake for 5 minutes, or until the egg white filling has puffed up.

For The Chocolate Coating:
Melt the chocolate in the top of a double boiler over hot (not simmering) water. Remove melted chocolate from stove, and dip or brush flødebollers with chocolate coating, and place them on a baking sheet lined with wax paper. Let cool completely. Do not refrigerate as the creme filling will get too hard. Store in airtight container in a cool place in your kitchen or pantry.

*Note: Ready-made store bought marshmallow creme in a jar can be substituted for the flødeboller creme filling ingredients in this recipe.

Makes: Approximately 25 flødebollers.

Photograph taken by Diana Baker Woodall© 2002
Source: Danish Cookbook
Date: October 2, 2002
Reviews
Reviewer:
marie
Rating:
Review:
they are out of this world delicious. thank you diana.
Reviewer:
Naomi
Rating:
Review:
I appreciate the recipe, as its hard to find, however I think the filling isn't quite right, not like the real danish flodeboller. Its also hard to shape the creme. I need to try store bought marshmallow cream. Think thats the trick.
Reviewer:
Marc
Rating:
Review:
Super recette, suggeré pour tout le monde!
Reviewer:
Nicole Jakobsen
Rating:
Review:
For a more traditional Danish flødebolle than this one, try this recipe:
Makes 15
Bottom:
250g/ 8 oz. bitter marzipan
300g/ 10.5 oz. sugar
1 dl/ 1/2 cup pasteurized egg whites
Filling:
1 dl/ 1/2 cup water
300g/ 10.5 sugar
150g/ 5g glucose
2 dl/ 1 cup pasteurized egg whites
10g/ 1/3 oz. sugar
1 teaspoon vanilla
250g/ 8 oz. bittersweet or semisweet chocolate
Make the Bottoms:
Blend the marzipan, sugar, and egg whites together into a well incorporated mass. Line a baking sheet with wax paper and spread the mass out onto the sheet in 2-3 mm thick circles. Bake them at 180 degrees C/350 degrees F for 10-12 minutes.
Make the Filling:
Bring the water, 300g sugar and glucose to boil in a pot and let it reach a temperature of 120 degrees C / 248 degrees F. Use a candy thermometer to verify the temperature. In a separate bowl, beat the egg whites, 10g sugar and vanilla to an extremely stiff mass. Pour the warm syrup into the egg white mixture in a thin stream, beating continuously until the mixture is completely stiff.
Pour the filling into a pastry bag with a tip of your choice and squeeze domes of filling atop each bottom. Set them in the freezer for one hour.
Finishing off the Flødeboller:
Melt the chocolate. Take the flødeboller out of the freezer and dip them one at a time into the chocolate, ensuring the tops and sides are completely enrobed. Set them on a wire rack with a piece of wax paper underneath and let harden.
Reviewer:
James Ford
Rating:
Review:
Hum... VERY GOOD ! I WILL DESTROY THE ENTIRE WORLD WITH THESE DASNISH FLODEBOLLER ! MOUAHAHAHA THX !
Reviewer:
Emmanuel
Rating:
Review:
I love them. That was my most favorite thing to eat in Denmark when I was having a sweet tooth. You could find them in any grocery store, but the best place to get them were in the middle of the towns (Centrums). The store called Frellsens. In there they had all different types of flodeboller. Some of them had a mocha flavor in the center. I miss Denmark.