Diana's Desserts - www.dianasdesserts.com
See more recipes in
International Desserts and Treats
Banoffi Pie
in Guest Recipe Book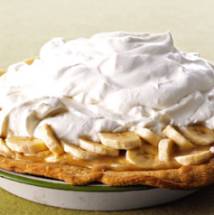 Average Rating:
(total ratings: 6)
[Read reviews]
[Post a review]
Servings: 8-10
Comments:
Our two close friends, Tricia and Roseleen from Dublin Ireland, made this wonderfully sweet and very rich pie for us when they visited with my husband and I here in California in the fall of 2001. We were truly amazed with this pie.

A note about the the "Toffee Filling", you may not want to spend so many hours making it, so I suggest using ready-made caramel sauce or even toffee sauce (if you can find it in a local supermarket or at gourmet food store or even online) in place of the cooked toffee for the filling. It will taste "almost" as good.....Diana, Diana's Desserts
Ingredients:

1 recipe short crust pastry, or one ready-made pie crust
1 1/2 (14-ounce) cans sweetened condensed milk (total of 21 ounces)
2-3 bananas, sliced length wise
1 1/2 cups heavy whipping cream, whipped
1/2 teaspoon powdered instant coffee
1 tsp. granulated sugar

Garnish: (optional)
A little freshly ground coffee, or sweetened cocoa powder(for garnish)

Tip:
Ready-Made Caramel Sauce or Toffee Sauce will work for the toffee filling, if desired. If using ready-made sauce, heat sauce and spread over cooked pie crust.
Instructions:
Preheat the oven to 400 degrees F/200 degrees C. Lightly grease a 9 or 10-inch pie plate (I prefer glass, like Pyrex). Line pie plate with the pastry, thinly rolled out. Prick the base all over with a fork and bake blind until golden brown. Allow to cool.

The secret of this delicious pie lies in the condensed milk.

Immerse the unopened cans of sweetened condensed milk in a deep pan of boiling water. Cover and boil for 5 hours making sure that the pan does not boil dry* (SEE CAUTION BELOW). Remove the cans from the water and allow to cool completely before opening. Inside you will find the soft toffee filling.

Whip the cream with the instant coffee and sugar until thick and smooth. Now spread the toffee over the base of the cooled cooked pie crust. Peel and halve the bananas length wise and lay them on the toffee. Spoon or pipe on the whipped cream and lightly sprinkle over the freshly ground coffee or powdered cocoa (optional). Slice into wedges and serve. Store any uneaten pie covered in the refrigerator.

Makes 8 servings.

CAUTION
It is absolutely vital to fill up the pan of boiling water frequently during the cooking of the cans. Five hours is a long time and if they are allowed to boil, dry cans will explode causing a grave risk to life, limb and kitchen ceilings.

Tip:
Banoffi is a marvellous "emergency" pie once you have the toffee mixture in your cupboard or pantry. Saying that, I suggest that you boil several cans at the same time as they keep unopened indefinitely.

NOTE:
If using ready-made caramel sauce instead of making the "Toffee Filling" from scratch, heat sauce in a medium pan until warm. Spread over cooked pie crust, and continue recipe as directed.

Where Banoffi Pie was Invented

Our friends from Ireland did not know where Banoffi Pie originated, but after doing further research I found out that the recipe was invented in 1972 at the Hungry Monk Restaurant in Sussex, England. The above recipe is taken from their website at: www.hungrymonk.co.uk.
Source: Our friends from Ireland
Date: September 2001-Recipe revised May 6, 2006
Reviews
Reviewer:
Indra Gill
Rating:
Review:
"It's a well-known fact that Banoffi Pie had it's humble beginnings in East Sussex in 1972, by Ian Dowding and Nigel Mackenzie at the Hungary Monk." A direct quote from the Hungry Monk website!
Reviewer:
scarlet
Rating:
Review:
fantastic!
Reviewer:
Martin
Rating:
Review:
Hello, You can get the original recipe (and still the best) from the creator of banoffi pie at: www.iandowding.co.uk.
Reviewer:
Diana Anderson
Rating:
Review:
I also add sliced strawberries to give the pie some color. My only problem is the toffee seems to want to get runny if it's stirred much to make it creamy before putting it into the pie shell. Otherwise, my co-worker LOVED it.
Reviewer:
Teresa
Rating:
Reviewer:
jayant sharma
Rating: