Diana's Desserts - www.dianasdesserts.com
See more recipes in
International Desserts and Treats
Torta alle Banane (Banana Cake)
in Guest Recipe Book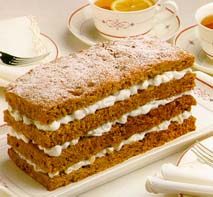 [Be the first to post a review!]
Servings: 8 slices
Comments:
This is a wonderful Italian Banana torta (cake). The flavor of banana mixed with lemon, oatmeal and allspice; and then a filling of yogurt and finely chopped banana spread between the layers is so very scrumptious.........Diana, Diana's Desserts
Ingredients:

Torta:
2/3 cup brown sugar
1/3 cup vegetable oil
2 large eggs
3 bananas, peeled and mashed
1 tsp. grated lemon peel
1 1/3 cups whole wheat flour
1 1/2 tsp. baking powder
1/4 tsp. allspice
1/2 cup rolled oats (regular or quick cooking oats)

Filling:
1 cup Greek Style Yogurt*, or cream cheese (regular or whipped), or you may use other flavored yogurt
1 banana, peeled and chopped finely

Garnish:
Confectioners' sugar
Instructions:
For The Torta:
Preheat oven to 350 degrees F (180°C). Grease a 9 x 5 x 3-inch loaf pan.

Cut a piece of parchment paper to fit bottom of pan. Place parchment paper on bottom of pan and grease parchment paper.

In a large bowl; mix the eggs, brown sugar and oil. Stir in the mashed bananas and the grated lemon zest. Sift the flour, the baking powder and the allspice into the banana/egg mixture. With a spoon, fold in the rolled oats.

Pour or spoon batter into loaf pan, and level top of torta with a spatula or a wooden spoon.

Bake in preheated 350 degree F(180 C) oven for 40-45 minutes, or until toothpick inserted in center of torta comes out clean, and torta has risen and is firm.

Remove torta from oven, and cool on rack for 10-15 minutes. Invert onto work surface, remove parchment paper, and after torta has cooled cut horizantally into 4 layers.

To Make The Filling:
In a medium size bowl, combine the yogurt (or cream cheese, if using) and the finely chopped banana. Spread filling between each layer of torta, dusting the top layer with confectioners' sugar. Place torta on serving plate. Serve at room temperature or slightly chilled. Store un-eaten torta in refrigerator.

Makes 8 servings.

*Note: Plain (unflavored), or flavored yogurt can be used for the filling. I recommend plain, or vanilla flavor, or if you can find banana or lemon flavored yogurt, either of these would work well for the filling in this recipe also.

Tip:
I have also used cream cheese (regular or whipped) instead of the yogurt in this recipe. It was very nice also.
Source: The Art of Cooking by MediaSoft
Date: August 10, 2002