Diana's Desserts - www.dianasdesserts.com
See more recipes in
International Desserts and Treats
Khoya Gulab Jamun
in Guest Recipe Book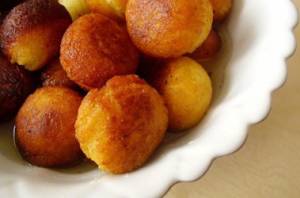 Average Rating:
(total ratings: 3)
[Read reviews]
[Post a review]
Comments:
Khoya Gulab Jamun

Khoya Gulab Jamun, the king of all Indian sweets, is made of a dough consisting mainly of milk solids glazed in a sugary syrup often flavored with cardamom and saffron and rose water. It is very rich and sweet even without the sugar syrup coat.

Gulab Jamun are cake-like fried milk balls in a simple sugar syrup. The dough for this dish takes only minutes to assemble, but the balls must be fried very slowly under carefully controlled temperatures. Some recipes increase the flour content in order to minimize the importance of the heat regulation; but the less flour there is in the dough, the better the quality of the Gulab Jamun. If the balls are browned too quickly or not fried long enough, they tend to collapse in the sugar syrup. Because the balls must be constantly agitated while they are being fried, make sure you have no distractions while you are cooking these wonderful treats. Gulab Jamuns are good sweets for festive moments, such as holidays and entertaining. They may be served warm or at room temperature.
Ingredients:

For Oval Shaped Gulab Jamun:
2 cups nonfat dry milk
1/2 cup all-purpose flour
1/2 teaspoon baking powder
Heavy Whipping Cream
Oil - For Frying

For Sugar Syrup:
2 cups granulated sugar
1 cup water

For Khoya:
3 cups full cream milk powder
300ml thickened cream
1 can sweetened condensed milk
Instructions:
For Gulab Jamun:

1. Mix all dry ingredients together.

2. Make the dough adding the heavy whipping cream.

3. Shape the Gulab Jamun into an oval shape.

4. Deep fry Gulab Jamun in oil.

For the Sugar Syrup:
5. Boil the water and sugar until it becomes a little thick.

6. Soak the Gulab Jamun in the syrup.

7. Let Gulab Jamun cool.


For Khoya:

1. In a microwaveable bowl mix full cream milk powder, thickened cream and sweetened condensed milk.

2. Place the bowl in microwave oven on HIGH for 4-5 minutes, then stir the mixture and then microwave again on HIGH again for another 4-5 minutes.

3. Let Khoya cool.

Decorating the Khoya Gulab Jamun:

1. Cut the oval shaped Gulab Jamun into 3/4 inch pieces and fill each piece with Khoya mixture.

2. Sprinkle Gulab Jamun with pistachio/almond/cardamom powder (optional).

3. Delicious Khoya Gulab Jamun is ready to be served.
Source: http://www.RitusCooking.com
Submitted By: Ken Barrett
Reviews
Reviewer:
skhan
Rating:
Review:
Nice recipe. Gulab Jamun is not just a famous indian recipe. Its also very famous in Pakistan. Lots of different varieties of Gulab Jamuns are made in Pakistan.
Reviewer:
neha
Rating:
Reviewer:
abhilasha
Rating: