Diana's Desserts - www.dianasdesserts.com
See more recipes in
International Desserts and Treats
Churros
in Guest Recipe Book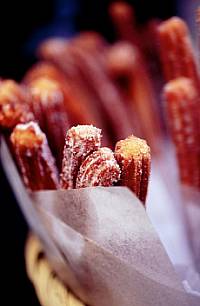 Average Rating:
(total ratings: 11)
[Read reviews]
[Post a review]
Servings: Makes 12-14 churros
Comments:
This Spanish and Mexican specialty consists of a sweet-dough spiral that is deep-fried and eaten like a doughnut. Churros are usually coated with a mixture of cinnamon and confectioners' (or granulated) sugar. As an extra special treat, dip your churros in Chocolate Dipping Sauce (see recipe below), or in a cup of piping hot chocolate.

A special treat to serve for Cinco de Mayo.
Ingredients:

Sugar-Cinnamon Mixture:
2/3 cup confectioners' or granulated sugar
1/2 teaspoon ground cinnamon

Churros Dough:
2 tbsp. vegetable oil
1 tbsp. confectioners' or granulated sugar
1/2 teaspoon salt
1 cup water
1 cup (4 1/2 ounces) all-purpose flour

To Fry the Churros:
Vegetable oil to a depth of 1 inch for frying
Pinch of salt

Chocolate Dipping Sauce, see recipe below (optional)
Instructions:
Sugar-Cinnamon Mixture:
In a small bowl, mix the sugar and ground cinnamon together, set aside.

For the Churro Dough:
In a 2-quart saucepan, combine the oil, the 1 tablespoon sugar and the 1/2 teaspoon salt with the 1 cup water. Set over high heat and bring to a boil, stirring occasionally. Remove from the heat and add the flour all at once, stirring vigorously until the mixture forms a thick, smooth-textured ball. Let cool in the pan.

To Fry the Churros:
When you're ready to cook the churros, heat the oil in a large pan (my preference for ease and consistency of temperature is a heavy pan or cast-iron skillet that's about 9 inches across and 3 inches deep) over medium to medium-high heat (about 375ºF/190ºC). The oil will shimmer on the surface and give off that characteristic hot oil aroma.

Scoop the dough into a churrera, a cookie press fitted with a 3/8-inch fluted opening or a heavy-duty (canvas-type) pastry bag fitted with a 3/8-inch star tip. Holding your pressing apparatus a few inches above the hot oil, press out a 5-inch length of dough (the end will dangle into the oil), then pull it free from the press with your fingertips.

Cook this one churro, turning occasionally, until it is deep golden brown, about 2 to 3 minutes if the oil temperature is right. Remove it to drain on paper towels and let it cool a minute, then break it open to check for doneness. (it should be just a little soft inside, but not too doughy). Too low an oil temperature, and the churros will take a long time to color, usually bursting apart before they're brown; too high a temperature, and they'll brown quickly but not cook enough.

Adjust the temperature if necessary, then press out and fry the churros 4 or 5 at a time, draining each batch on paper towels.

Put the sugar/cinnamon mixture on a large plate and roll the churros luxuriously in mixture while they are still warm. If desired, dip churros in Chocolate Dipping Sauce* (see recipe below) or in a cup of piping hot chocolate. They're ready to enjoy.

Makes 12-14 churros.

Chocolate Dipping Sauce

Ingredients:
4 ounces dark chocolate, chopped
2 cups milk
1 tablespoon cornstarch
4 tablespoons granulated sugar

Instructions:
Place the chocolate and 1 cup of the milk in a pan and heat on low. When the chocolate has melted, dissolve the cornstarch in the remaining 1 cup milk and whisk into the chocolate with the sugar. Cook on low heat, whisking constantly, until the chocolate is thickened, about 5 minutes. Add extra cornstarch if it does not start to thicken after 5 minutes. Remove and whisk smooth. Pour and serve in cups for dipping churros.

Note:
The churro dough can be prepared up to several hours before frying; cover it and leave at room temperature. If you can't fry the churros just before eating, warm them for 3 or 4 minutes in a 350ºF/180ºC oven, but always serve them warm.

Variation:
Add 1/4 cup (1 ounce) finely ground pecans and 1/2 teaspoon very finely chopped orange zest (colored rind only) to the dough along with the flour.
Source: Mexico One Plate At a Time by Rick Bayless
Date: August 1, 2002
Reviews
Reviewer:
giovanna
Rating:
Review:
Recommend not boiling the water and sugar because the mix never cooks when you fry it, and the churro stays like a doughy mashed potatoes (no matter how many times you put it in the microwave to try to cook it). Use less water, maybe half the recipe if possible. Otherwise the recipe is GREAT, just the right flavoring!
Reviewer:
Josie Corcoles
Rating:
Review:
There is only one way to make churros, equal amounts of water (boiling) and PLAIN Flour (otherwise they will explode and burn you) pinch of salt and drop of oil in the water. Bring water to boil in pot add flour all at once and mix well into a dough. Put into churrera and deep fry. Serve hot with a little sugar on top and with creamy hot chocolate. Tip: You can freeze the churros when you have piped them and cook off as you need them. These are to die for, enjoy!
Reviewer:
Maria Hernandez
Rating:
Review:
They are the bomb. They melt in your mouth. They should put it in schools for spanish history month. They make me go crazy.
Reviewer:
marta
Rating:
Review:
Excellent!
Reviewer:
Layla Perez Delgado
Rating:
Review:
These cookies are nasty. What is up with the pepper and salt. It helped me get an A in spanish on my project. Sort of thank you. Take out peppers because it makes it mad spicy.
Reviewer:
Monica Guerrero
Rating:
Review:
I tried many recipes and these churros came out just like the ones from my hometown in Mexico. Excellent recipe.
Reviewer:
Diana Caballero
Rating:
Reviewer:
cwid
Rating:
Review:
Rick Bayless' recipe is one of the better ones I have tried. However, I find the churros a bit hard (not crunchy) on the outside but just right on the inside. But this is still way better than those recipes that use eggs. I find that these are too soft and too "eggy", like cake.
Reviewer:
kiley
Rating:
Review:
its fantabulisticly wonderful!!!!!
Reviewer:
cony duke
Rating:
Reviewer:
Kailey
Rating:
Review:
These are amazing! I made them for my family, and everyone loved them. For my social studies class, we were studying South America, and my job was to bring in a type of food, so I brought in the churros! It was a huge hit, so many classmates wanted the recipe! Thanks a bunch!