Diana's Desserts - www.dianasdesserts.com
See more recipes in
International Desserts and Treats
Bienenstich Cake (Bee Sting Cake)
in Guest Recipe Book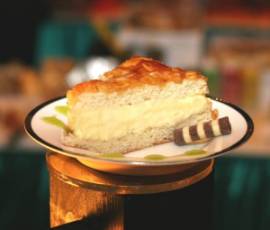 Average Rating:
(total ratings: 19)
[Read reviews]
[Post a review]
Servings: Makes 2 (8-inch) cakes, 16 servings
Comments:
Serve this classic German cake when you want to treat your family and friends to a time-honored European classic. Bienenstich Cake, or "bee sting cake" has a rich history. With origins in Germany, the cake is called "bee sting" as it is thought that a bee was attracted to the honey topping on the cake, and that the baker who invented the cake was stung. This cake is traditionally filled with custard and topped with honey-glazed sliced almonds.

This tender and buttery dough layered with a rich (though unconventional) vanilla pastry cream, and topped with sticky, sweet almonds is a fitting end to a light early summer dinner. Or enjoy a sliver with your afternoon coffee or tea.
Ingredients:

Dough:
2 1/4 cups unbleached all-purpose flour
1/4 cup (1/2 stick/2 oz./56g) butter
2 tablespoons granulated sugar
1 1/2 teaspoons instant yeast
3/4 teaspoon salt
2 large eggs
1/4 cup water

Topping:
6 tablespoons (3/4 stick/3 oz./84g) butter
1/3 cup granulated sugar
3 tablespoons honey
2 tablespoons heavy cream
1 1/2 cups sliced almonds

Filling
2 teaspoons unflavored gelatin (about 2/3 of a packet, or 3 to 4 sheets)
2 tablespoons water
1 cup heavy cream, whipped to very soft peaks
1 (3-ounce) package instant vanilla pudding mix
1 1/2 cups milk
1 teaspoon vanilla extract
Instructions:
Manual/Mixer Method:
Combine all of the dough ingredients in a medium-sized mixing bowl, stirring until the mixture becomes cohesive. Transfer the dough to a lightly oiled or lightly floured work surface, and knead it for 5 to 8 minutes, until it is smooth OR knead it in an electric mixer, using the dough hook, for 4 to 7 minutes at medium speed. Place the dough in a lightly oiled bowl, turn to grease all sides, cover the bowl with a proof cover or plastic wrap, and let it rise for 60 minutes, until it is puffy.

Bread Machine Method:
Place all of the dough ingredients into the pan of your bread machine in the order recommended by the manufacturer (usually, liquids first, yeast last). Program the machine for dough or manual, and press Start. After about 10 minutes of kneading, check the dough's consistency; it should be fairly smooth, slightly sticky, not dry and "gnarly." Adjust its consistency with additional flour or water, if necessary, and allow the machine to complete its cycle.

Shaping:
Transfer the dough to a lightly oiled work surface, fold it over to expel any excess gas, then divide it in half. Roll each piece into a ball, then pat and stretch each ball into an 8-inch circle. Place the circles into two lightly greased 8-inch cake pans; don't worry if the dough shrinks away from the edges of the pans. Allow it to rise/rest for 30 minutes-the gluten will relax, making the dough easier to work with-then gently stretch and pat it to reach the edge. Make the topping while the dough is rising.

Topping:
Melt the butter in a small saucepan set over medium heat. Add the sugar, honey and cream. Bring the mixture to a boil, and boil it for 3 to 5 minutes, until it's taken on a very light gold color. Stir in the sliced almonds, let cool slightly, then spread over the dough in the pans.

Baking:
Bake the Bienenstich in a preheated 350°F/180°C oven for 25 to 28 minutes, until the edges are golden brown and the topping is bubbling. Remove it from the oven, and cool in the pan for 30 minutes, to allow the topping to firm up. Run a knife around the edges of the pans to loosen any stuck-on dough, and flip each cake over onto a plate, then flip back onto a rack so the almond topping is up. Cool completely before filling.

Assembly:
Carefully split each of the cakes in half horizontally, so that you have four thin, round cakes. This is best done using a serrated knife; cut slowly and check as you go to make sure you're staying on a straight line. Set the cakes aside.

Soften the gelatin in the 2 tablespoons water, then heat the mixture (in a microwave set on low, or over low heat in a saucepan) until the gelatin has melted and the mixture is clear. Let it cool slightly.

Fold a bit of the whipped cream into the gelatin, then fold that back into the remaining whipped cream.

Mix the instant pudding with the milk and vanilla, stirring for 2 minutes as the box directs. Immediately fold the whipped cream/gelatin mixture into the pudding (the pudding will begin to set up, so work quickly). Use this faux pastry cream to fill the cakes. Serve immediately, or refrigerate until you're ready to serve.

Makes 2 (8-inch) cakes,16 servings.

Note: We really like this method of making pastry cream; both the ease of preparation, and the delicious final product. The whipped cream makes the filling very rich, while the gelatin stabilizes it, so it'll stay firm (and not "weep") in your pastry for days, if necessary. When we're in a hurry, and know we're making a pastry that doesn't have to keep for a long time, we simply prepare instant vanilla pudding mix using heavy cream instead of milk, spiking it with an extra shot (a teaspoon or two) of vanilla extract. Either of these two methods produces a filling that's wonderful for cream puffs, éclairs, napoleons (if you ever make those at home), cakes, or other filled confections.
Source: Recipe adapted from King Arthur Flour
Date: May 7, 2006
Reviews
Reviewer:
Pamella Edwards
Rating:
Review:
I copied and made this, and even I had success with it. It tasted just like the ones I've eaten at a well known pastry shop in Beechworth, Victoria.
Reviewer:
Emily
Rating:
Review:
In the past two weeks, i have made this cake three times for various occasions and have been happy every time with the outcome. I do, however dislike how time consuming it is, so to cut down on prep time, i just mix pudding and whipped cream for the filling. I love this recipe!
Reviewer:
Juanita Marquez
Rating:
Review:
I made this for a company picnic (sure enough, a bee immediately flew over to investigate) and I had 2 requests for the recipe. It's definitely not something to make when you're in a hurry but it does taste good. The cake part was more breadlike in consistency than I thought, not a negative but just something to be aware of. I found an electric knife to be quite helpful when cutting the layers. I look forward to making it again.
Reviewer:
ingrid hatch
Rating:
Review:
I remember it as a child in Germany, and bake it now for my family in the USA.
Reviewer:
Tanja Simmons
Rating:
Review:
This is my first time making dough like this so it didn't turn out quiet like I had remembered it but it was delicious. I will however try it again
Reviewer:
Jessie
Rating:
Review:
The cake was excellent and the topping absolutely superb. My guests told me it was the best thing they ever had. My only complaint about the recipe was that my custard didn't turn out because the gelatin was flaky in the finished product. I actually made a traditional vanilla pastry cream for my finished product and that was excellent.
Reviewer:
Adrian
Rating:
Review:
I am of German descent and have had the Beinenstich at Beechworth bakery in Healsville but it wasn't that good compared to the one in Hahndorf where my descendence first settled in Australia ,they have an authentic german recipe that beats any other I have tasted ,this recipe is close to the authentic beinenstich but mine has kirsch in it ...
Reviewer:
Karen Cay
Rating:
Review:
OMG This was SOOOO Delicious - but I altered it abit. I used a 10 inch spring form pan and it was Prrrrrrrfect - and looked even more spectacular.
Reviewer:
neacie
Rating:
Review:
I haven't tried this recipe..but just had one of these cakes from a German bake shop and fell in love! I can`t wait to try it on my own.
Reviewer:
nicole jordan
Rating:
Review:
I remember my oma and opa bringing us this cake each time they would come visit us. My husband even loves it. I had this cake in Germany many times, also I just love it and I'm so blessed you can give people this recipe because its just like the ones I have had in Germany. Many thanks from Australia!
Reviewer:
Trudy
Rating:
Review:
I grew up in Germany and Bienenstich was my favorite cake. Had some problems with the gelatin setting properly, but it did turn out well in the end. Thank You!
Reviewer:
Pip Wilson
Rating:
Review:
Thanks for the recipe. It's long a favourite here in Bellingen and I adore the beesting. It's great for people with dentures.
Reviewer:
Luke Fast
Rating:
Review:
My Bee Sting Cake was sooooo scrumptious! So delicate and soft and not to mentions very moist! Mmmm so moist!
Reviewer:
Nancy Kraut
Rating:
Review:
This was fabulous! I used Karen's strategy with the springform pan because the dough didn't rise as much as I expected. The rising didn't matter, though; it was perfect. I wish I could submit the photo I took of it -- so beautiful.
Reviewer:
Tracy Morcom
Rating:
Review:
Hi there. Loved the Bienenstich cake. I made it and put it on my personal FB and had heaps of requests for the recipe. Refered them to here. I have a question in the shaping you mention "Allow it to rise/rest for 30 minutes-the gluten will relax,..." Mine did not rise much as I was not sure whether to rise it or leave it be (away from warmth) Do I rise it again near warmth?
Warmly Tracy
Reviewer:
Surya
Rating:
Review:
Excellent excellent EXCELLENT!! I'm so glad this made two. Taking one for a party, ate the other one for dessert. My perpetually-on-a-diet sister couldn't stop eating and my dad requested it for his birthday next month. Was a little worried because the dough looked tiny, and the layers did turn out extremely thin, (and I messed up a bit with the filling) but it's delicious. Mmmmm!!
Reviewer:
Angela Sachse
Rating:
Review:
My husband requested this cake from his childhood in Germany for his birthday. His responses included: "The house smells like my mother's house when I was a kid."
and
"This is exactly how it should be...exactly like the bakery near Muti's house."
And I have to admit myself, this was DELICIOUS! I will definitely be making this at Christmas.
Reviewer:
James
Rating:
Review:
Steps are not clear, dough was heavy, not light, total waste of time in my option. We never make this again.
Reviewer:
Anonymous
Rating:
Review:
Does anyone know where in Germany (which Bundesland) this was first made? I am doing a school presentation. PLEASE HELP! Thanks!