Diana's Desserts - www.dianasdesserts.com
See more recipes in
International Desserts and Treats
Cherry Bakewell Tartlets
in Guest Recipe Book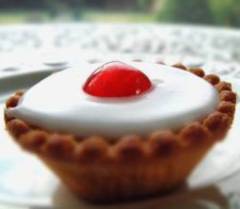 Average Rating:
(total ratings: 21)
[Read reviews]
[Post a review]
Servings: Makes 24 tartlets
Comments:
A Bakewell tart is a traditional English baked dessert tart or cake. It is a distant cousin of the original "Bakewell Pudding" (see below).

It consists of a shortcrust pastry shell, spread with jam and covered with a sponge-like filling enriched with ground almonds (known as Frangipane). They may also be covered with nuts such as almonds and peanuts. Alternative flavors, including blackcurrant, strawberry and apple are also produced.

A Cherry Bakewell is a small cake, covered with a top layer of icing and a single central half glacè cherry, also known as a Bakewell Cake.

To some extent, the terms cake and tart are used interchangeably, though most insist the names are recipe specific. Recipes abound, for example those given by Ben Mathews (1839), Eliza Acton (1845), K Morgan , M Bates and Mrs Beeton (1861), and modern commercial examples are to be found in most cake shops in England and on every supermarket shelf. The name only became common in the 20th Century; the dish was previously known as Bakewell Pudding.

Bakewell Pudding

The Derbyshire town of Bakewell claims to be the home of the authentic Bakewell Pudding and many believe it to originally come from the Rushbottom Lane district. A recipe still made there consists of a puff pastry shell with a layer of jam, covered with a filling of eggs, sugar, butter and almonds.

The tale told to tourists is that this dish is an accidental invention of the 1860s, which occurred when a nobleman visiting the White Horse Inn (now called The Rutland Arms) at Bakewell ordered strawberry tart. The cook, instead of stirring the egg mixture into the cake, spread it on top of the jam. However, this claim is almost certainly spurious, as the pudding was by then already well-known, and its antecedents can be traced back to medieval times.

Source: Wikipedia.com

Below is a very nice recipe for individual mini cherry bakewell tartlets.....Diana, Diana's Desserts
Ingredients:

For the Pastry:
1 1/4 cups all-purpose flour
1/3 cup confectioners' sugar
1/2 tsp. salt
10 tbsp. (1 1/4 sticks/5 oz./142g) chilled unsalted butter, cut into pieces
2 egg yolks, lightly beaten with 1 tbsp. water

For the Filling:
8 tbsp. (1 stick/4 oz./113g) unsalted butter
1/3 cup firmly packed almond paste
1/2 cup granulated sugar
3 eggs, lightly beaten with 1 egg white
1/3 cup plus 1 tbsp. cake flour

1 cup jam, such as raspberry, sour cherry or strawberry

For the Icing:
1 1/3 cups confectioners' sugar
2 tbsp. water

Garnish:
6 glacè cherries (candied cherries), halved
Instructions:
To Make the Pastry:
In the bowl of a food processor, combine the flour, confectioners' sugar and salt and pulse to mix. Add the butter and process in short pulses until pea-size crumbs form, 20 to 25 seconds. While pulsing, add the egg yolk mixture and process to form large, moist crumbs, 10 to 15 seconds more.

Turn the dough out onto a lightly floured surface, shape the dough into a ball and divide it in half. Shape each half into a flat, 5-inch disk, cover with plastic wrap and refrigerate at least 1 hour.

Position a rack in the center of an oven and preheat to 400°F/200°C.

Working with one piece of dough at a time, roll out to 1/8-inch thickness. Using a 3-inch round cookie cutter, cut out 12 rounds of pastry. Transfer a round to each well of a 12-well mini tart plaque or mini muffin pan (or you may use individual mini fluted tart tins). Using your fingers, press the pastry to fit into the well. Refrigerate until ready to bake.

To Make the Filling and to Bake:
In the bowl of an electric mixer, beat the butter until light and creamy. Add the almond paste and granulated sugar and beat until smooth and creamy. While beating, add the eggs a little at a time, blending well after each addition. Reduce the speed to low and fold in the cake flour until just blended and no lumps of flour remain.

Spoon about 1 heaping tsp. jam into each tart shell, making a thin layer about 1/4 inch deep. Spoon the filling into each shell, filling it just to the top. Bake in preheated 400°F/200°C oven until the tartlets are golden, 12 to 15 minutes. Set the pan on a wire rack, cool the tartlets to room temperature. Repeat with remaining dough to make 12 more tartlets.

For the Icing:
Sift the confectioners' sugar into a bowl, then combine with about 2 tablespoons of water and stir until smooth. Spoon the icing over the cooled tarts and top with a glacè cherry half.

Makes 24 tartlets.
Date: October 7, 2007
Reviews
Reviewer:
becky arntsen
Rating:
Review:
thanks. really helped me with my food homework. also ended up great and tasted brilliant. thanks again.
Reviewer:
Rosanna
Rating:
Review:
i couldn't find a recipe for a cherry bakewell anywhere, then i found this. thank you very much.
Reviewer:
saad sadiq
Rating:
Review:
your easy to use recipe got me a very happy teacher and an *A* in food technology in school.
Reviewer:
rachel
Rating:
Review:
Just what i needed. my bf is silly and instead of a cake asked for a cherry bakewell, and i am sure he will be very pleased.
Reviewer:
Sandi Evans
Rating:
Review:
I needed this for my cooking homework, as im going to make it and this has been a great help, thank you ever so much!!
Reviewer:
David
Rating:
Review:
Thanks! My son adores cherry bakewells, so we can try and make them from scratch now.
Reviewer:
Amanda
Rating:
Review:
Thank you. I am missing home today and these will help. I can also make them for Mother's Day, I am sure my mum would love a taste of home too.
Reviewer:
Zoe
Rating:
Review:
Thank you so much. I couldn't find a recipe anywhere until I came onto this recipe. This is for my food tech homework so i'm very pleased. I will write back on here what they tasted like.
Reviewer:
Alexandra
Rating:
Review:
I have made this recipe about seven times and it is perfect every time. From the very first attempt. However, I do find that the pastry makes less then stated. I'm lucky if I get over 12 out of it.
Reviewer:
may
Rating:
Review:
Really brilliant, thanks, i couldn't find a recipe anywhere then i found this, thanks.
Reviewer:
vanessa
Rating:
Review:
These were amazing! Super easy to make and taste even better than store bought. Thank you!
Reviewer:
Sharon
Rating:
Review:
I love this recipe and would like to try it, but I'm staying in the US and can't find almond paste. Do you know if any online store sells almond paste, that you can provide me? Or can I replace almond paste with almond essence (flavoring)? If yes, then how much almond essence should I put in? Thank you for your advice.
Reviewer:
Lorna
Rating:
Review:
I haven't baked these but I'm replying to Sharon's post re almond paste. You could use ground almonds or almond 'flour'. Using essence will only give flavour, not the 'bulk' required.
Reviewer:
rianne
Rating:
Review:
These were amazing, thank you so much. Need to make more in the future with these.
Reviewer:
Lucie Knight
Rating:
Review:
I moved from England to New Zealand 5 years ago and they don't make them over here. Am now pregnant and craving them so much! Tasted so yum! Thank you!
Reviewer:
Sarah from Michigan
Rating:
Review:
My nieces and I tried this recipe together. A perfect addition to our afternoon tea! Actually very close to the imported (from England) brand we tried, only fresher and cheaper to make. Thanks!
Reviewer:
ann bruce
Rating:
Review:
Can you tell me how much in ounces is 1/3 of a cup. Cant wait to try the recipe. Can you let me now for Tuesday please, as i do the baking for the old buddy's club and some of them ask me if I could make Bakewell Tarts.
Reviewer:
kelsey
Rating:
Review:
Excellent tasting tarts. My grandmother [who is very fond of the traditional bakewell tart from bakewell] loved these. The dough definitely doesn't make 24 tarts, but this recipe is adaptable and I like that. [Instead of candied cherries, I used maraschino cherries, also got to chose my own jam] Excellent recipe with easy to follow instructions! thank you
Reviewer:
Chris
Rating:
Review:
Just put these in the oven. The ingredients made 12 tarts NOT 24 but as i live alone its no problem..............lol
Reviewer:
Rossene
Rating:
Review:
I found this recipe delicious, but for me time consuming. I shortened the process.
I found the dough soft to roll so made the cutout circle but then rolled the dough into a ball and fitted the cup perfectly. I got 24 bake wells made in a mini muffin tin. I have enough filling to probably make at least 12 more, but decided to make cupcakes for my hubby, using same recipe.
Reviewer:
Torch
Rating:
Review:
Love love love thank you for this great recipe. Sharon you can get almond paste in grocery store in US.