Diana's Desserts - www.dianasdesserts.com
See more recipes in
International Desserts and Treats
Tsoureki (Greek Easter Bread)
in Guest Recipe Book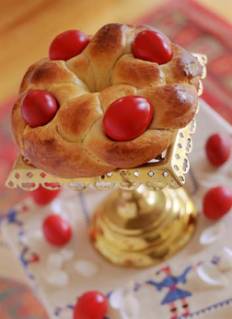 Average Rating:
(total ratings: 3)
[Read reviews]
[Post a review]
Servings: Makes 3 loafs
Comments:
This braided bread can be shaped either into a circle or into two large braids and sprinkled with sesame seeds (sesame seeds are not always used and are not used in this recipe. You may add them if you like). The loaves are often adorned with beautiful red Easter eggs and sometimes red rosebuds for decorations. The Easter eggs are dyed deep red to represent the blood of Christ, the eggs also represent new life and springtime. It is traditionally eaten during the Resurrection Meal. After 40 days of fasting - as is dictated by the Greek Orthodox Church (but rarely followed as strictly by the general population any longer) - the Easter feast has to begin slowly, with a light meal after the midnight liturgy on Saturday night. The fast is generally broken with Magiritsa, an offal-based soup flavored with avgolemono sauce; Tsoureki, the fluffy, egg-laden Easter bread, salad and a bowl of red dyed eggs. Greeks have a custom when it comes to the eggs: they crack them one-to-one. Whomever's egg remains in tact, supposedly has good luck in the ensuing year.

This bread recipe was traditionally prepared with an essence drawn from the seeds of Mediterranean wild cherries, called Makhlepi, which makes the kitchen smell delicious. The kernels of the Makhlepi cherry spice are loved for specialties like Tsoureki, but some people at times may elect to prepare this beautiful bread without the seed essence. Besides mahaleb kernels, the bread can be flavored with Mastic, the resin from Pistacia lentiscus, var. chia which is used in Greek cuisine. In more recent years, vanilla-scented Tsoureki has also become quite popular. Sometime Tsoureki is used as gifts for special occasion, for instance, it can be given as an Easter gift from children to their godparents.

This braided, sweet bread is found in all Greek shops and homes during the Easter Holiday.
Ingredients:

2 envelopes (1/2 oz./14 grams/4 1/2 tsp.) active dry yeast
1/2 cup warm water
1 cup (2 sticks/8 oz./226g) unsalted butter
1 1/4 cups granulated sugar PLUS 1 tablespoon
5 eggs
2 cups warm milk
10 cups all-purpose flour
1/2 tsp. ground mastic OR mahlepi (also spelled makhlepi)* (See Notes Below)

Optional:
Red dyed hard boiled Easter Eggs
Instructions:
Dissolve the yeast in the warm water with 1 tbsp. sugar, set it aside to ferment and proof, about 10 minutes.

Cream the butter and sugar in a large bowl until it is light. Beat in four of the eggs, one at a time, beating with each addition. On low speed, slowly pour in the warm milk. Add 1 cup of the flour and the mahlepi and mix into the other ingredients. Then add the dissolved yeast and slowly start adding the remaining flour.

When the mixture gets too thick to stir, remove it from the mixer. Dip both your hands into flour so they don't get sticky, and start kneading the dough by hand, until all the flour is incorporated. It should be pliable and smooth, not stiff.

Cover the dough with a smooth cloth towel and set it in a warm place to rise, about 1 hour, until it is double in bulk. Knead it again for 1 minute and then set it aside to rise once more.

Knead the dough again for 1 minute, and then divide it into 12 balls (each ball being the size of an orange). This will yield you 4 loaves. Roll each ball on a floured board into a rope 1 1/2 to 2 inches thick and 15 to 20 inches long.

Take three ropes, and press the edges of the ropes together and tuck the end under the loaf. Braid the length of the ropes and when finished, press the other end together and tuck under the loaf. Set each loaf on a well-greased sheet and cover so they rise again and are doubled in bulk.

Preheat oven to 275 degrees F/135 degrees C. Beat the last egg lightly and brush the tops of the braided loaves with it. Bake the loaves for 15 minutes then lower the heat to 250 degrees F/120 degrees C and continue baking until they are golden brown, about 30 minutes. They can be stored in airtight bags or even frozen to enjoy on another day.

Makes 3 loafs.

*Notes:
Mastic can be purchased online at Parthenon Foods. Mastic can also be found at most Middle Eastern markets or Greek food markets.

Mahlepi can be purchased at most Greek food markets or online at: greekolivewarehouse.com or at greekshops.com.

Variation:
For a little variation, you can add pieces of dried orange peel and mix it into the dough. If you would like to get more decorative with your Tsoureki, you can push hard-boiled, dyed eggs into the loaf right before it is baked. They make the loaves that much more festive.
Date: March 5, 2007
Reviews
Reviewer:
Jen
Rating:
Review:
Fantastic Easter Bread! We really enjoyed it.
Reviewer:
Diane
Rating:
Review:
A wonderful Greek bread, just in time for Easter.
Reviewer:
Sofia K
Rating:
Review:
my first attempt at making this and it turned out excellent. Recipe was easy to follow. I'm not afraid of yeast anymore!