Diana's Desserts - www.dianasdesserts.com
See more recipes in
International Desserts and Treats
French Almond Macaroons
in Guest Recipe Book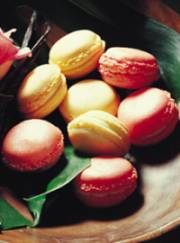 Average Rating:
(total ratings: 18)
[Read reviews]
[Post a review]
Servings: Makes 50 sandwiched macaroons
Comments:
What are French Macaroons?

A French macaroon, or macaron, is a light-as-air almost meringue-y almond cookie, or rather two of these light and flavorful cookies sandwiching a filling: creamy chocolate ganache for the chocolate macaroons, buttery caramel for the hazelnut ones, pistachio cream for the pistachio macaroons, orange filling for the the tart orange macaroons and tangy raspberry preserves for the raspberry meringues.

French-style macaroons typically involve two meringue-like cookies, with a paper thin crunchy exterior and a moist, almost cake like interior, sandwiched together with ganache or pastry cream, with melt-in-your-mouth results.

Macaroons were once a rare find in American bakeries, but lately they have become increasingly popular. At the pastry shops around the country that do offer them, chefs say they are having trouble baking enough of the treats to meet demand.

Macaroons are, indeed, a delicate treat. And chefs say they must be made by hand to achieve the sought-after texture.

The cookies are typically made simply with almond flour, egg whites, sugar and possibly food coloring. The goal is to achieve a very light, crisp crust and moist, chewy interior.

Baking at "too low a temperature will dry them, like a meringue, and just a minute too long will ruin the texture, and it's all about texture. Some chefs say they add flavoring to the cookie dough as well as the filling. Others contend any variation from the basic ingredients in the cookies ruins the texture, so they add flavorings only to the filling.

Some chefs pipe their macaroon dough onto a lined baking sheet and lets it sit for a few minutes to form a skin before baking, which helps ensure a smooth top without cracks. They also find using fresh egg whites doesn't work quite as well as those that have aged for a few days. And they prefer to bake the cookies a day ahead, keeping them in the refrigerator, to allow time for the flavors to develop.

A classic macaroon is the color of sand but bakers looked at the colors of the rainbow and started to do things accordingly." With the help of food coloring, the cookies now come in almost every color, from vivid green for pistachio to bright pink for rose.

The celebrated tea shop Laduree, on the Champs-Elysees in Paris, is given credit for the invention of the French-style filled macaroon, though the cookies themselves are thought to have originated in Italy during the Renaissance. The name comes from the Italian word maccherone, meaning fine dough.

Early in the 20th century, Pierre Desfontaines, grandson of Laduree's founder, Louis Ernest Laduree, who opened the shop in 1862, is said to have come up with the idea of sandwiching flavored cream between the cookies. And macaroons remain a signature item at the bakery, which now has four outlets in Paris.

Laduree claims that in 2003 he baked 110 tons of macaroons. The tea shop also pioneers new exotic flavors each year, and options include salted butter caramel, lime-basil, cotton candy, and Champagne.
Ingredients:

For the Macaroons:
10 oz. confectioners' sugar
10 oz. finley ground almonds
5 large egg whites
Pinch of cream of tartar
1/3 cup granulated or superfine bakers sugar
Red and yellow food coloring

For the Fillings:
9 oz. unsalted butter, softened
5 oz. confectioners' sugar, sifted
2 tsp. finely grated orange zest
1 tsp. orange blossom water or orange flower water
1/2 cup raspberries
1 tsp. rose flower water
Instructions:
1. For Macaroons:
Using a fine sieve, sift confectioners' sugar and finely ground almonds, pushing through with a wooden spoon.

2. Using an electric mixer, whisk egg whites until foamy. Add cream of tartar and whisk until soft peaks form. Add sugar, 1 tbsp. at a time, and whisk until dissolved. Stir meringue mixture into almond mixture (mixture will be stiff), then halve. Tint one half pink, the other half orange.

3. Spoon 1 mixture into a piping bag fitted with a 1/2-inch plain round tip. Pipe walnut sized rounds onto parchment paper-lined baking sheets, then repeat with other mixture. Set meringues aside, uncovered, on baking sheets for 1 hour (this will help minimise cracking).

4. Preheat oven to 300 degrees F/150 degrees C and bake macaroons, 2 baking sheets at a time, swapping sheets halfway through cooking, for 20 minutes or until firm to the touch. Remove from oven and cool on baking sheets. Slide a knife under each macaroon to release from paper, then store in an airtight container until ready to fill.

5.For Fillings:
Using an electric mixer, beat butter until pale and fluffy, then gradually beat in confectioners' sugar until combined. Transfer half the mixture from the bowl to another bowl and add orange zest and orange blossom water. Stir to combine. Add raspberries and rose flower water to remaining mixture in mixing bowl and, using the electric mixer, beat until well combined. Sandwich pink macaroons with raspberry filling and orange macaroons with orange filling.

Makes 50 sandwiched macaroons.

Tip:
To create a perfectly smooth top on your macaroons, dip a finger into a bowl of water and gently smooth out any peaks.
Date: September 14, 2006
Reviews
Reviewer:
Jennifer Bautista
Rating:
Review:
This sounds AWESOME!
Reviewer:
Ruth
Rating:
Review:
I followed the recipe exactly, and they did not rise enough, the recipe is off by something....can anyone help my flat macaroons?
Reviewer:
Fenshanell stoltz
Rating:
Review:
sounds amazing, make them in for the holidays, thank you.
Reviewer:
Chef Mohamed
Rating:
Review:
The recipe what you have on this page,i believe this should not be here this recipe of Macroon Deserve The Heaven Fantastic Recipe keep up the good work i do really appreciate
Reviewer:
jess
Rating:
Review:
they tasted really good but they barely rised AT ALL. they spread out way too far to look like flat cookies in the end but they tasted divine!- oh and the color didn't really hold.
please tell me what i did wrong to cause their inability to rise.
Reviewer:
erwin wafu
Rating:
Review:
The recipe looks yummy but is there an alternative ingredient for the almond flour/ground almonds? Almonds are expensive here in Philippines.
Reviewer:
Teresa
Rating:
Review:
with a bit of practice, you'll inherit the intuition to make a most amazing macaroons with this recipe. As it is with any food worth the effort, playing around a bit and developing an instinct for what is ideal for your cooking conditions is best for this slightly finicky recipe. Thank you for a lovely recipe -- it has generated rave reviews and a lot of fun experimenting.
Reviewer:
Autumn
Rating:
Review:
The mixture was ok but i find that adding an extra 8 oz. of confectioners' sugar makes it better. I managed to get them to rise but was a bit disappointed that the filling depleted so much. Keep up the great work though!
Reviewer:
Dyanna
Rating:
Review:
Make sure to beat the mirengues to STIFF peaks after you put in the remainder of the sugar. Also, the orange blossom water and rose water are very powerful, so you may want to lessen the amount specified. Mine deinately did'nt turn out like the picture but I think with some practice I can get it... Also, it may be helpful to get pre-ground fine ground almonds, because my machine could NOT grind them fine enough to push through a sieve (the worst part).
Reviewer:
Joyce
Rating:
Review:
This is just a guess, but for those of you with flat macaroons, part of the problem may be the weather. Since Meringue is made by whipping air into egg whites, when the air is humid and "heavy", the meringue will not get light and airy enough. I hope this is helpful.
Reviewer:
Joyce Wagner
Rating:
Review:
Here is a link to a site that contains information and links about common problems with making these. http://www.davidlebovitz.com/archives/2008/09/making_french_macarons.html
Reviewer:
Annapet
Rating:
Review:
This is an excellent recipe! Indeed, humidity plays a big part when working with meringues.
Erwin, this is what we call Silvanas in the Philippines, and you may substitute finely ground cashew!
Reviewer:
Anne
Rating:
Review:
Mine looked like rainbow amaretti biscuits! They tasted divine but full of cracks and no feet whatsoever. When I lifted them off the paper they were hollow and chewy - very yummy, but not the look I was hoping to achieve. Oh well, that was only my first attempt.... back to the drawing board!
Reviewer:
Becki
Rating:
Review:
If the batter is the right consistency it will settle into the baking sheet smoothly. I made one batch that was too fluffy and tried to smooth it with a wet finger, these completely deflated in the oven or just became deformed wherever the water touched them.
Reviewer:
RB
Rating:
Review:
maybe add more cream of tartar. Another recipe calls for 3/4 tsp. vs. a pinch recommended here. Good luck!
Reviewer:
Dessert European Bakery
Rating:
Review:
We use mostly the same recipe to make our macaroons. For those of you who cannot get your macaroons to rise enough, you need a very good mixer, so your egg whites are beaten perfectly - otherwise you will have barely risen macaroons. Instead of using cream of tartar, it is better to use citric acid or lemon juice. By the way, all recipes on websites are mostly the same, but you will find a lot of tricks during your own experience.
Reviewer:
anne-maree nelmes
Rating:
Review:
The macaroons rise well with a nice crust on the outside and moist pleasantly soft/chewy/melt texture inside. I substituted ground pistachio nuts for half the ground almonds - delectable.
Reviewer:
GERARD
Rating:
Review:
I have made thousands of them already. Never had a problem. They always rise properly. Properly whipping the whites, softly but thouroughly folding the mixture, respecting the one hour time delay for baking, as well as the temperature. I have NEVER had a problem with meringues or macaroons because of humidity, and I live in a humid part of South Africa. Very good recipe. I am a Belgian baker by the way.