Diana's Desserts - www.dianasdesserts.com
See more recipes in
International Desserts and Treats
Empanadas de Guayaba (Guava Turnovers)
in Guest Recipe Book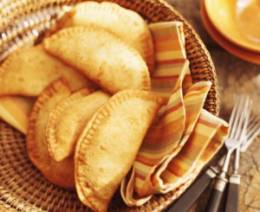 Average Rating:
(total ratings: 11)
[Read reviews]
[Post a review]
Servings: Makes 10 empanadas
Comments:
These flaky Cuban turnovers are filled with thick slices of guava paste that bubbles into a sticky sweetness when baked or fried.
Ingredients:

2 1/2 cups all-purpose flour
1/2 teaspoon salt
1/2 cup (1 stick/4 oz./113g) butter, cut into pieces
1 egg
1 to 2 tablespoons ice water
1 pound guava paste
2 to 2 1/2 cups oil (if frying)
1 beaten egg (if baking)
Instructions:
Combine the flour, salt, and butter. Using a pastry blender or fork, cut the butter into the mixture until it has a coarse, granular appearance. Make a well in the center of the mixture and add the egg. Mix well to incorporate the egg into the mixture, and add 1 to 2 tablespoons of ice water, adding just enough to make a soft dough that is firm and minimally sticky. Knead the dough briefly and refrigerate for at least 1 hour.

Divide the dough into 10 equal pieces and roll into balls. On a lightly floured surface, roll out each ball to make a circle approximately 6 inches in diameter. Place slices of guava paste (approximately 1 1/2 ounces) onto the center of each circle. Using a pastry brush or finger, lightly wet the inside bottom edge of each circle and fold the top end over the filling. Press the edges firmly together, flute them with the tongs of a fork, and prick the tops. Trim the edges with a knife tip if necessary.

If frying:
Heat oil in a large skillet until hot, and fry each turnover for approximately 1 minute on each side or until golden brown. Drain onto paper towels and serve warm.

If baking:
Add 2 tablespoons of cold water to the beaten egg, and beat slightly to make an egg wash. Brush the tops of each turnover with the egg wash, and place onto lightly greased baking sheets. Bake in a preheated 400 degree F/200 degree C oven for 12 to 15 minutes, until lightly browned.

Makes 10 empanadas.
Source: Latina.com
Date: September 2, 1006
Reviews
Reviewer:
Melissa Delgado
Rating:
Review:
Well, what can I say? It was just so gooey and soft, just perfect!!!
Reviewer:
yaimaris
Rating:
Review:
well, i'm a cuban and i love this empanadas they are so delicious and perfect!!!!
Reviewer:
Julie Armstrong
Rating:
Review:
These are excellent! I ended up splitting my dough into 16 pieces so they would be a little smaller, which was better for me. And I put creme cheese in some, they were excellent as well! Great recipe... very easy!
Reviewer:
Lourdes Yanez
Rating:
Reviewer:
Jorge
Rating:
Review:
Best I have ever tasted.
Reviewer:
Pitbull
Rating:
Reviewer:
Praxy
Rating:
Review:
I use the puff pastry dough for turnovers, and works excellent...
Reviewer:
Dean
Rating:
Review:
Try these with a mixture of cream cheese & gorgonzola. The cheese cuts the sweetness of the guava paste and is absoultely delicious.
Reviewer:
Ashleigh Gibson
Rating:
Review:
I added some cream cheese inside with the guayaba paste and it was even better!!
Reviewer:
Claudia Niemiec
Rating:
Review:
Perfect: not too sweet...I too add cream cheese. I made them last week and am making them again tonight! I'm excited to try the Alfajores next!
Reviewer:
Ivelisse Roman
Rating:
Review:
awesome..