Diana's Desserts - www.dianasdesserts.com
See more recipes in
International Desserts and Treats
Mexican Chocolate Layer Cake
in Guest Recipe Book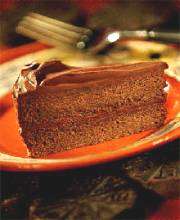 Average Rating:
(total ratings: 4)
[Read reviews]
[Post a review]
Servings: 10-12
Comments:
Oddly enough, though, Mexican chocolate rarely, if ever, appears in desserts. But if you think about it, Mexican chocolate is a natural for the baker's pantry. Not only is it already sweetened, but it's also often made with vanilla, cinnamon or almonds.

The Mexican chocolate you're likely to find in supermarkets is formed into round tablets that have been scored so they can easily be broken into smaller pieces. Two of the most common brands are Ibarra and Abuelita; they're packaged in distinctive hexagonal boxes. Both work equally well in desserts; Abuelita has a stronger cinnamon flavor for when you want to play up the spice flavor.

Mexican chocolate's unique composition and texture mean you can't substitute it freely for other chocolate when baking. Because it's very sweet, the sugar in a recipe may have to be reduced. And unlike other chocolates, which are smooth and shiny, Mexican chocolate is dry and granular.

So if a cake recipe calls for regular baking chocolate, don't swap it out entirely for Mexican chocolate. You'll need to use a little regular chocolate to keep the cake moist.

This trick works well in this Mexican Chocolate Layer Cake, with that little bit of regular chocolate boosting the intensity of chocolate flavor. This velvety cake is frosted with a rich ganache frosting made mostly with Mexican chocolate too.

Ingredients:

Cake
3 (3.1-ounce) disks Mexican chocolate* (see note below), finely chopped
2 ounces unsweetened chocolate, finely chopped
2 cups all-purpose flour
1 1/2 teaspoons baking powder
1/4 teaspoon salt
1/2 teaspoon ground cinnamon
3/4 cup (1 1/2 sticks/6 oz./170g) butter, room temperature
1 cup granulated sugar
3 eggs, separated, at room temperature
2 teaspoons vanilla extract
1 1/2 cups milk, room temperature

Ganache Frosting
1 cup heavy whipping cream
2 (3.1-ounce) disks Mexican chocolate* (see note below), finely chopped
2 ounces unsweetened chocolate, finely chopped
2 tablespoons (1/4 stick/2 oz./28g) butter, cut into small pieces
1 tablespoon light corn syrup
1 tablespoon Kahlúa liqueur
Instructions:
For the Cake:
1. Preheat oven to 350 degreesF/180 degrees C. Butter and flour two 9-inch round cake pans. Line the bottoms with parchment paper, and butter the paper. Set aside.

2. Melt the Mexican chocolate and the unsweetened chocolate in a metal bowl over a pot of simmering water. Remove from the heat and set aside.

3. Sift the flour, baking powder, salt and cinnamon together. In the bowl of an electric mixer, beat the butter and sugar until well combined and creamy. Beat in the egg yolks and vanilla. Stir in the melted chocolates. On low speed, alternately add the flour mixture and milk, mixing just until all traces of flour are incorporated, ending with flour. Scrape down the sides of the bowl as needed. In a separate bowl, using clean beaters, beat the egg whites until stiff. Stir one-third of the egg whites into the cake batter. Gently fold in the remaining egg whites.

4. Divide the batter evenly between the cake pans, gently smoothing the top. Bake in preheated oven for 25 to 30 minutes, until a skewer inserted in the middle comes out clean. Cool the pans on a rack for 10 minutes. Run a knife around the inside edge of each pan to loosen the cakes. Remove the cakes from the pans and the parchment paper from the cakes. Cool completely before frosting.

Makes 10-12 servings.

*Note:
Mexican chocolate disks or tablets may be purchased online at Mexgrocer.com or at other gourmet stores on the internet. It may also be purchased at Amazon.com. Also it can be purchased at Mexican grocery stores. Mexgrocer.com carries both the Ibarra and Abuelita brands of Mexican chocolate.

For the Ganache:
Instructions:
1. Heat the cream in a small saucepan just until simmering.

2. Place the chopped Mexican chocolate and unsweetened chocolate in a bowl. Pour the hot cream over the chocolate. Let stand for a few minutes, then gently whisk until the chocolate has melted. Stir in the butter until melted, then add the corn syrup and Kahlúa. Refrigerate for 20 to 30 minutes until stiff enough to spread. With a spatula, beat the ganache to make it smooth and spreadable.

3. Place one cake layer, bottom side up, on a serving platter. Frost the top with about one-third of the ganache, spreading it to the edges. Top with the second cake layer, again bottom side up. Spread the remaining ganache over the top and sides of the cake.

Makes 10-12 servings.
Date: April 13, 2006
Reviews
Reviewer:
Larry V. Biggar
Rating:
Review:
This recipe was very easy but a lot of work. I think I will substitute Borden Sweet and Condensed milk for the heavy cream and sugar. For the Ganache, I will add about 1/4 cup of molasses and 1/2 teaspoon nutmeg. To the cake, I added one tablespoon of instant espresso. All in all, it's a very good cake just as it is!
Reviewer:
Julie
Rating:
Review:
This recipe was a lot of work, but the payoff is amazing. It is the best dessert I have ever made. Chop the chocolate in your food processor to save time. Also, the frosting needs to cool for a few hours, not 20-30 minutes.
Reviewer:
Carrie Olenick
Rating:
Review:
I made this cake for my husband for Father's Day. It was amazing! I'm hispanic and grew up on Abuelita and loved the flavor of this cake. I live in Colorado, at 6,000 ft., and this was the first cake I've made altitude adjustments to that worked perfectly on the first try. To make it set correctly, I used buttermilk instead of milk and added 3 T. I added 1 1/2T. flour, 1/4 t. salt, 1/2 T. sugar. I decreased the baking powder to 3/4 t. I added 2 t. vanilla (Mexican vanilla), 1/2 t. of cinnamon and 1 oz. of unsweetened chocolate. Most people don't know that flavors taste more flat at high altitude, so you should increase spices and flavorings. I just increased the temp. by 25 degrees. Worked like charm!
Reviewer:
chris
Rating:
Review:
its good