Diana's Desserts - www.dianasdesserts.com
See more recipes in
International Desserts and Treats
Swiss Zopf Bread
in Guest Recipe Book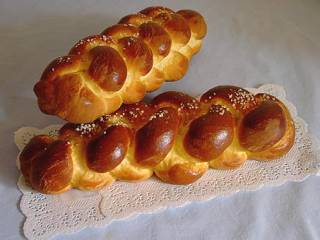 Average Rating:
(total ratings: 2)
[Read reviews]
[Post a review]
Servings: 1 loaf, 16 slices
Comments:
Just as each culture seems to have its everyday bread, each also seems to have its "weekend" bread: bread made with more expensive ingredients, bread a step up the richness ladder from the typical flour/water/yeast/salt loaf. These loaves fall somewhere in between basic breads and holiday breads: unlike holiday breads, they're not overly sweet and aren't enriched with dried fruits or nuts; but the addition of butter, perhaps sugar, eggs and/or milk takes them quite a bit beyond the simple hearth loaf.

The Swiss have long been known for their egg- and dairy-rich breads, as well as their intricately shaped loaves. Zopf, usually formed into a simple three-strand braid, is a basic example of this Swiss art. A staple on weekends, and traditionally offered at New Year's and at meals marking the Emmentaler cheese harvest, zopf has a very slight tang (from the sour cream). This was a great favorite among our taste-testers; we found.....The Baking Sheet, published by The Baker's Catalogue (King Arthur Flour).
Ingredients:

Dough:
3/4 cup (6 1/2 ounces) sour cream
4 tablespoons (2 ounces/ 1/2 stick/56g) butter
3 1/4 cups (13 3/4 ounces) King Arthur Unbleached All-Purpose Flour
2 teaspoons instant yeast
1 1/4 teaspoons salt
2 large eggs (reserve 1 yolk for Glaze)

Glaze:
1 egg yolk
1 tablespoon water

Note from Diana's Desserts:
Poppy or sesame seeds may be sprinkled over the top of loaf before baking, if desired.
Instructions:
Dough: Warm the sour cream to lukewarm in a microwave, or over very low heat while stirring constantly. Add the butter and stir until melted.

In another bowl, whisk together the flour, yeast and salt. Add the dry ingredients to the sour cream mixture, then stir in 1 egg and 1 egg white. Stir until the mixture comes together to form a shaggy mass, then set it aside for 15 minutes.

Knead the dough -- by hand, electric mixer, food processor or bread machine -- until it's smooth and elastic, adding a small amount of water or flour, if needed. Place it in a greased bowl, cover the bowl, and set the dough aside to rise for 1 1/2 to 2 hours, until it's doubled in bulk.

Turn the dough out onto a lightly greased surface and knead it gently a few times, to expel the excess carbon dioxide. Divide it into three equal pieces, and roll each piece into an 18-inch log. Braid the logs together, pinching them at both ends and tucking the pinched ends under. Place the braid on a lightly greased or parchment-lined baking sheet, cover it, and allow it to rise for 45 to 50 minutes.

Glaze:
Whisk the egg yolk with the water, and brush the braid with this glaze (and sprinkle loaf with poppy or sesame seeds at this point, if desired). Bake the bread in a preheated 375°F/190°C oven for 30 to 35 minutes, or until it's golden brown and shiny. Remove it from the oven and let it cool on the pan for 10 minutes, then transfer it to a wire rack to cool completely. Zopf is traditionally served at breakfast, toasted or not, with butter and/or jam.

Yield: 1 loaf, 16 slices.

NUTRITION
Nutrition information per serving (1 slice, 47g): 146 cal, 6g fat, 4g protein, 18g complex carbohydrates, 1g dietary fiber, 40mg cholesterol, 181mg sodium, 65mg potassium, 63RE vitamin A, 1mg iron, 18mg calcium, 50mg phosphorus.

Source: The Baking Sheet (r) (Vol. XI, No. 6, Autumn 2000 Issue). The Baking Sheet is published 6 times a year by The Baker's Catalogue (King Arthur Flour Company).

Date: March 29, 2006
Reviews
Reviewer:
tara
Rating:
Review:
i have a few issues with this recipe, while in Switzerland two months ago i got to help a family make TONS of loaves of zopf bread for my friend's wedding, as well as making it with her years ago in england. no one use sour cream in any of the recipes, including a savory version of the bread. and you don't braid three strands of dough together, but rather two, crossed at the middle and then the strands woven together in a specific pattern. and lastly, there was no order in which we added the ingredients, everything was thrown together and then i was told to put my hands in and start kneading. i'm sure there are variations, but that basic does NOT include sour cream
Reviewer:
jemima chadwick
Rating:
Review:
I made it because my best friend made it and she said it was so fun and great so I knew that I had to make one.